These Are Going To Be The Hottest Destinations For 2018, According To Travel Experts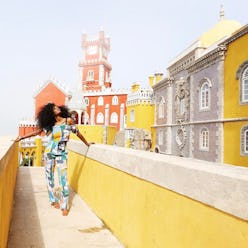 Like most of you, we're not exactly sad to see 2017 go, and we can only hope for better things in 2018. In the spirit of optimism, we reached out to some of our favorite travel influencers for intel on the next big getaways. Keep reading to start planning your bright future in faraway lands next year.
Portugal and Zanzibar
"I hope my 2018 plans include revisiting Portugal and Zanzibar, Tanzania. I've been fortunate enough to see a good portion of the world but these two places far exceeded all my expectations."
—Ribicca Mamuye, Amro Menor
San Sebastian, Spain
"San Sebastian has been on my bucket list because it's a coastal city immersed in a culinary culture. It would be interesting to balance eating your face off with aspiring for a beach bod."
—Olivia Lopez, Lust for Life & Bon Weekender
East Africa's Indian Ocean Islands
"These overlooked islands are much, much more than just beautiful beaches. For years, the islands served as strategic trade route bases for Portuguese sailors, Omani traders, Gujarati merchants and British colonials. As a result, the islands possess a truly unique cultural mix evident in the cuisine, architecture and language. Add extinct volcanoes, waterfalls, national parks and snorkeling to the mix, and there's plenty of adventure for all."
—Drea Sobieski, Elsewhere
Rwanda and Laos
"I'm dying to go gorilla trekking in Rwanda. It's an adventure I've been told is completely life-changing and magical, and after going on a Zambian safari last year, I know it's the next significant wildlife encounter I want to have.
"Pretty much all of Asia fascinates me, and while I've seen a decent bit, there's so much more I hope to make time for next year, specifically Japan, India and Laos. They're completely unique countries that have fascinated—and overwhelmed—me from afar, and I would love to spend a significant amount of time in each to ensure I experience them in their beautiful, diverse glory."
—Kathryn Romeyn, travel writer
Corsica, France
"France will continue to be a hot destination in 2018, and at Onefinestay, many of our guests are interested in Corsica. Among all the Mediterranean islands, Corsica is reputed to be the most beautiful—it's not called the Île de Beauté for nothing. Porto Vecchio, Calvi, Île-Rousse, Bonifacio: The scenery is spectacular everywhere you turn. There is so much to do: walking or hiking, swimming or scuba diving, day trips or simply sitting and doing nothing. Corsica is quite simply magnificent."
—Javier Cedillo-Espin, CEO, Onefinestay
Warsaw, Poland
"This city is an underestimated gem. There is an incredibly interesting culinary scene, so much to discover and a creative energy in the air. We're planning a slow travel escape there for summer 2018—stay tuned."
—Eva Dixon, founder, Godai Escapes
Tokyo
"I believe the hottest destination for 2018 will be Tokyo, because any time of year is an incredible time to go. As they begin to prep for the 2020 Olympics, there's already a special buzz about the place. It's one of the most sensory overloaded places on Earth, but in the best way possible. The politeness of the people and the culture is something you have to see to believe—it's literally a utopian society fueled on delicious sushi and incredible, unique fashion."
—Natasha Huang Smith, travel writer