6 Under-The-Radar European Cities You Should Visit Immediately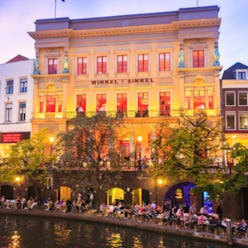 Don't get us wrong: We're not against visiting the common tourist destinations in Europe. After all, there's a reason places like Paris, London, Rome and even Iceland became popular. (Food! Fashion! History! And oh, the Instagram possibilities!) But with the proliferation of low-cost airlines and more employers offering remote working options, it's worth it to embrace flexibility and move beyond the normal tourist circuit on return visits. Who says you can only have one "trip of a lifetime" experience? Beat your own path across the continent and who knows—you might find a new future favorite. Here are a few of our favorite under the radar cities to help get you started.
For the full list, visit Nylon.
Riga, Latvia
Tourists still haven't discovered Riga, which means regardless of the season you can wander crowd-free through the city's pastel-toned old town. Jewelry fans (which is a large chunk of us, right?), this is your chance to score some amber, one of the Baltics' major natural resources. It's sold nearly everywhere and in every configuration, but keep your eyes open for shops selling brightly colored, crack-free pieces. (As with diamonds, color and clarity are a way to determine quality.)
Like many Eastern European countries, Latvian food is a delicious swirl of meat and potatoes. Hit up the Central Market, where you can buy all the ingredients of a traditional meal at ridiculously reasonable prices. (Plus, pickles—the country's out to prove anything can be improved with brine.) For a less gut-busting option, try dinner at Fat Pumpkin, a raw restaurant whose delicious use of seasonal ingredients proves that the spirit of vegetarianism is alive and well in the Baltics. Finish your evening out with a nightcap or two at Bar I Love You. The watering hole's coffeehouse vibe—complete with reading materials, comfy couches and suitably obscure soundtrack—is perfect for canoodling couples, friends who want to talk or anyone just not looking to deal with a typical bar scene.
Bergen, Norway
Pro-tip: Don't fly into Bergen. Yes, air travel from Oslo to Norway's second biggest city is short enough you won't even have time to take a nap. But you'll miss one of Europe's most scenic train rides. (Need proof? Part of The Empire Strikes Back was filmed not far from the tracks.) The Instagram perfection only continues when you arrive. Set your phone's camera to panoramic mode and take the Fløibanen Funicular up to one of the many hills that surround the harbor town (just be sure to save it for a clear day—or else you won't get much of a view). Or rent a car and head out to the fjords to watch the tide dramatically crash against the cliffs—an outing that comes doubly recommended during the winter when you can also (hopefully) catch the Northern Lights.
There's also plenty of action indoors. Music lovers, take note: Sondre Lerche, AURORA and Sigrid all call Bergen home, and sometimes it seems like half the population has a music project or 12 up their sleeves. To start untangling the twisted web, stop by Apollon, a local bar/record shop. There, over a local brew like Hansa, an employee can fill you in on who's playing in the area's numerous venues. You can also pick up releases from local heroes Chain Wallet, Alexander von Mehren and Tellef Raabe.
Vilnius, Lithuania
Vilnius is home to knit bombing (yarn-based street art), smiling angel statues scattered around the city and two tributes to Frank Zappa. (No connection, they just really like him.) To get a true taste of Lithuania's emerging art scene, take a stroll through Užupis. In addition to hosting some truly impressive street art, the neighborhood declared itself to be an independent nation on April Fool's Day in 1997, with its own money, anthem and 11-man army. (No joke—you can even get your passport stamped every year on April 1.) Important amendments in their Declaration of Independence include: "Everyone has the right to appreciate their unimportance," "Everyone has the right to celebrate or not celebrate their birthday" and "No one has the right to make another person feel guilty."
For more traditional sightseeing, head to the TV Tower, the tallest structure in Lithuania, for a drink in the perfect retro lounge at the top. That's not your head spinning—the whole room slowly rotates for the best possible view of Vilnius. There's also Europos Park, located just outside the city, where you can get your Alice in Wonderland on by roaming through the forest and gaping at oversize art pieces from sculptor Gintaras Karosas. Cap off your adventures with a nice greasy meal from Drama Burger—because French fries taste good in any language.