The Most Insta-Worthy Backdrops In LA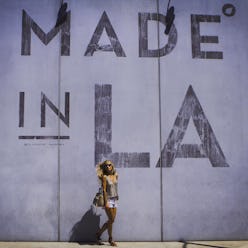 The key to Instagram success—other than a killer outfit—is a foolproof backdrop. While the ensemble possibilities are endless, we have narrowed down the locations to 5 It-girl favorites. If you've noticed a trend in locations popping up in your feed but aren't sure where to find them, we have you covered. Here, see the best places in LA to up your Instagram status and where to find them. Sit back and wait for the notifications to roll in—it won't take long for the likes on your new post to skyrocket.
Made in LA Wall, Cisco Home: Melrose + N. Laurel
Whether or not you were born and bred here or just visiting, snap a pic in front of this wall to really show your pride.
Photo: @majamalnar
Pink Wall, Paul Smith: Melrose + N. Harper
You've probably spotted this hot pink wall on every blogger's Instagram, and now you can finally check it off your bucket list of places to visit.
Photo: @rumineely
The Bates Motel, Sunset Pacific Motel: Sunset + Bates
The vintage Sunset Pacific Motel (also known to locals as "The Bates Motel") was transformed into art when the French artist Vincent Lamouroux painted the entire building white (even the palm trees!). Not only will your photo look amazing, it'll capture a piece of history.
Photo: @songofstyle
LACMA Lights, LACMA: Wilshire + S. Fairfax
Whether you're a tourist or a resident, planning a stop at LACMA's famous "Urban Light" installation is a must. In case you were wondering, it looks just as beautiful at night.
Photo: @majamalnar
Angel Wing Mural, Angel City Brewery: Alameda + Traction
Amongst all the street art in LA these wings literally capture the essence of being in the City of Angels.
Photo: @chiaraferragni