Adele Dedicated Her Album Of The Year Award To Beyoncé—Then Surprised Us All By Doing This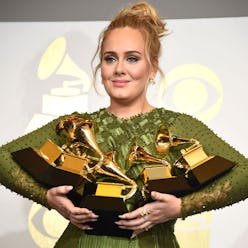 It's no exaggeration to say Adele swept last night's Grammy Awards. From Record of the Year to Song of the Year, the singer-songwriter nabbed five (!) major wins, but the biggest of them all was the coveted Album of the Year award as she went head-to-head with Beyoncé's visual masterpiece Lemonade. So when she appeared onstage to receive the honor for 25, Adele paid an emotional tribute to the pop star that had the whole Internet going wild.
"I can't possibly accept this award," she said. "I'm very humble and grateful and gracious, but the artist of my life is Beyoncé; for me, the Lemonade album was just so monumental."
Adele went on to explain that Bey's album was "so well thought out and so beautiful and soul-baring, and we all got to see another side to you that you don't always let us see, and we appreciate that." The camera then panned to an equally tearful Beyoncé in the crowd.
"All us artists adore you," she continued. "You are our light. And the way that you make me and my friends feel, the way you make my black friends feel, is empowering. You make them stand up for themselves. And I love you."
Then in true Mean Girls fashion, Adele broke off part of her golden gramophone statue, seemingly appearing to share the award with Bey. But as fans started speculating on social media, a backstage video revealed that she might have accidentally just broken the statue, which she soon exchanged for a new one.
Whether Adele actually handed Beyoncé that other half remains to be seen, but we know last night belonged to these two queens.