5 Fashion Moments We Were Pleasantly Surprised To See At The Glamour Awards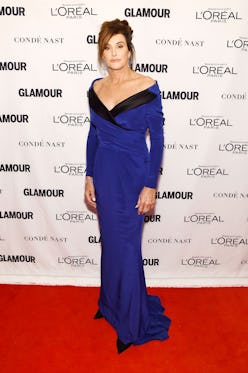 At an event called the "Women Of The Year Awards," you'd naturally expect a handful of impressive ladies on the red carpet, and the turnout for Glamour's prestigious soiree in the Big Apple delivered just that. Hosted by Amy Schumer, the ceremony honored everyone from Reese Witherspoon to Caitlyn Jenner, celebrating female excellence across a range of categories. While the event turned out the usual suspects (read: Karlie Kloss, Selena Gomez and other regulars on our best-dressed lists) there were several fashion moments we were pleasantly surprised to see. Year after the year, the event incorporates a more diverse crowd on account of its industry crossover, and thus typically delivers inspiration for women everywhere—this time was no different. Ahead, great looks we loved on 5 awesome women.
Rowan Blanchard
At 14 years old, Rowan is a style icon in the making, demonstrating sartorial prowess years beyond her true age. In crisp trousers and a girly, beaded bodice, she looks at once fashion-forward and age-appropriate—a feat that's worthy of praise. Oh, and she just made Time's list of most influential teens, so if you aren't already, keep an eye out for this rising star.
Serena Williams
The unstoppable tennis icon continues to amaze us, having racked up several victories this year alone (and nearly nabbing the illustrious Grand Slam title). Proving she transitions from the court to carpet seamlessly, we loved seeing the eldest Williams sister step out in this sheer, pleated number for the night.
Caitlyn Jenner
As far as we're concerned, 2015 is the (unofficial) year of Caitlyn Jenner. Dressed to impress in a custom Moschino gown, she continues to prove she's hitting her red carpet stride.
Misty Copeland
One of the evening's honorees, Misty became the American Ballet Theater's first African-American principal to ever dance for the company earlier this year. She's received tremendous praise for her trailblazing accomplishments, as well as for being such a vocal proponent of positive body image. And in a figure-hugging black gown, she definitively proves that being strong, fit and confident is the best kind of look.
Dascha Polanco
We love a cape moment on the red carpet, and the Orange Is The New Black actress fully brought the drama in her cascading white gown. Punctuated by a soft, side-swept updo, Dascha's look is downright regal.