Sponsored by Downy: What Rachel Zoe Learned About Caring For Your Clothes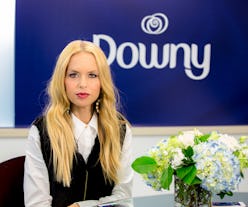 This is a sponsored post presented by Downy
For generations Downy has been a trustworthy brand, so who better to advise on how to care for your garments? Our EIC headed to their headquarters to get the scoop straight from the experts. Ahead, see what Rachel learned at Downy and witness all the behind-the-scenes action from her crash course in clothing care.
Rachel Visits The Downy Lab
Clothing Care 101
"I now feel so knowledgeable and educated in really understanding how to treat clothing." —Rachel Zoe
Condition Your Clothes
Similarly to shampoo and conditioner for your hair, your clothes also benefit from the same type of powerful cleansing combination of detergent and fabric conditioner. Use Downy Fabric Conditioner to not only keep garments fresh and clean, but also protect their color and shape.
Protect Your Garments
Use Downy Fabric Conditioner in addition to detergent to keep your beloved pieces looking newer and fresher for longer, as it protects clothes from damage in the wash.