Rachel Zoe Shares Her April Obsessions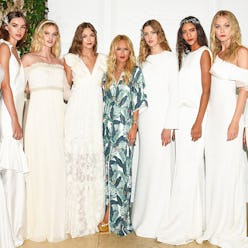 April, and all of its showers, blossoms and festivals, brings with it a much needed breath of fresh air. Here at RZHQ we've got so many exciting announcements. We're now part of the Bustle Digital Group, we've redesigned The Zoe Report website and Rachel's first bridal designs are shoppable on ShopRachelZoe.com. As if that wasn't enough, we're heading to the desert for our annual Zoeasis party in Palm Springs. We tapped our founder Rachel Zoe to share more of what she is excited about, along with the pieces she's stocking up on this month.
Festival Season
This year marks our fourth annual Zoeasis event in Palm Springs. We're inviting guests into a Moroccan-inspired oasis complete with a souk-style marketplace for them to browse stylish pieces and indulge in quick beauty treatments. It's always fun to be out in the desert and this year will be one for the books.
Stella Heart
The wonderful Stella McCartney hosts an annual brunch for the VIP (Violence Intervention Program) H.E.A.R.T. initiative which seeks to build community and support those, particularly children, recovering from trauma. It is such a wonderful cause and raises money to provide necessary resources to victimized children in the LA area.
The Zoe Report Redesign
You might have noticed that we've undergone a little spring redesign—aimed at bringing our readers the best in fashion, beauty and lifestyle content in an easy-to-navigate, mobile-friendly site. We hope you love it as much as we do!
Family Time
Amidst all the madness, my family and I are escaping to Mexico for spring break. There's nothing better than getting out of town to force us to step away from work and focus on quality time together. It will be short but sweet!
My Spring Collection
My wedding edit of bridal pieces for Rachel Zoe Collection is here! I've been so excited about this since I showed my first bridal designs last fall because not only do I love a white dress moment, I live for making women feel their best and when is that more important than on their wedding day? The edit consists of everything a bride-to-be will need, from cocktail dresses for the engagement party to a flashy sequin tux for letting loose at their reception. The best part? You can totally re-wear (or buy) any of the pieces for everyday life too.
Shop A Few Of My Current Obsessions
Shop A Few Of My Current Obsessions