Rachel Zoe x The Coveteur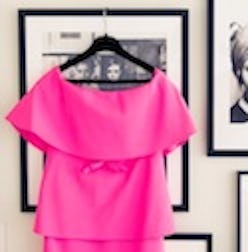 Rachel Zoe HQ has been Coveteur'd again and in advance of the gorj, shoe-filled photo diary — launching on Tuesday, October 15th — we wanted to share a few exclusive snaps with our Zoe Reporters! Namely, three things we consider office essentials at RZHQ: maj accessories, bold nail polish and vintage inspiration. Sign up for The Coveteur's newsletter to get the full feature on Tuesday!
The infamous nail polish rack in the "digi" division of RZHQ.
A pink Balenciaga dress, hanging in Rachel's photo-filled office.
Our Fabian booties, sitting pretty on Rachel's desk.