Letter From Rachel Zoe: November 2013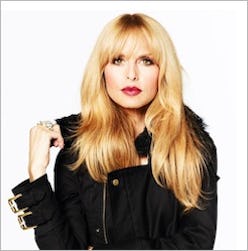 Happy holidays! It is only the beginning of the most glamorous time of year, but I am already so excited for every aspect of the romantic season. The colder it gets, the more excuses you have to add chic, cozy layers – I can make a case for every style of coat imaginable.
Speaking of glamour, let's talk sequins and glitz for holiday dressing! The metallic trend is bigger than ever, thanks to a runway takeover from New York to Paris, and my team and I have been busy planning sparkly stories to ensure you get in on the action from Thanksgiving to New Year's Eve.
To ring in Thanksgiving right, expect to see features focused on everything from traveling in style to elegant entertaining and cooking in the most chic way possible. I have asked some special friends to share some of their favorite holiday dishes – so be prepared for uber-glam hosting.
The most maj part? Each one of these pieces will debut on our gorgeous new TheZoeReport.com, which goes live in just a few short weeks. The redesign process has been a true labor of love, and I can't wait for you to experience the new site. If you still have friends who don't receive my daily email, now would be the time to encourage them to sign up! They'll thank you later.
Finally, in honor of giving thanks, we must all take a moment to count our blessings. I am personally more grateful than ever for all of the kind words, prayers and support my family has received throughout my sister Pamela's battle with breast cancer. I am overjoyed to report that she is winning the fight.
Until next month, stay cozy and keep your eyes on this space…
Glamorously Yours,
Rachel Zoe
P.S. In case you missed it, I recently joined LinkedIn as an Influencer alongside some of the most incredible leaders in the industry. Check out my first post— From Inseams To Instinct: Things I've Learned Growing My Business .