A Note From Rachel: Pre-Order 'Living In Style'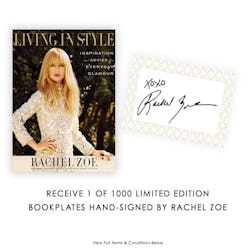 In less than 50 days, my second book Living In Style: Inspiration and Advice for Everyday Glamour is hitting bookshelves nationwide and I could not be more excited to share it with you! The book covers everything that has inspired me from fashion and beauty to home design and entertaining and gives you easy advice for incorporating more glamour into your everyday life.
I have created a gorgeous limited edition bookplate that I will hand-sign for the first 1,000 of my loyal Zoe Report followers that pre-order my book before it's released on March 25th.
All you have to do is follow the simple steps below:*
Pre-Order your copy of Living In Style from your favorite bookseller—Barnes & Noble, Amazon, iTunes (or anywhere else you like to buy books!)
Once ordered, submit your proof of purchase of Living In Style through the form below and the first 1000 entries will receive a bookplate signed by yours truly
I truly can't wait to share this book with you all, it's been such a labor of love and I could not be more proud of it! I promise you will love it just as much as I do! Don't forget to keep checking back The Zoe Report for more Living In Style-related content!
*View Full Terms & Conditions. For questions or more information, email livinginstyle@hbgusa.com