How Rachel Zoe Got Her Start In The Fashion Industry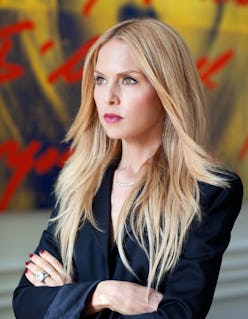 You've heard the stories of how fashion leaders like Natalie Massenet, Eva Chen and Diane Von Furstenberg got their start in the fashion industry through our Women of Style series but you might not know how our own Editor-in-Chief, Rachel Zoe, went from restaurant hostess to one of the biggest names in the fashion industry. Until now, that is. Rachel shared the details of her story in Gillian Zoe Segal's new book Getting There: A Book of Mentors. Read the personal essay below and pick up the book for even more inspiring stories from visionaries like Graydon Carter, Jeff Koons, Sara Blakeley and others.
There was a moment in time when I thought I'd be a restaurant hostess for the rest of my life. I had that job during the summers when I was in high school and when I was at George Washington University. I thought it was the coolest job because I loved meeting new people every day. That's actually how I met my husband, Rodger. He was getting his MBA at the time, but he was also employed as a waiter where I worked. We fell in love and I fantasized that we'd open a restaurant together some day, but he had his sights set on a career in finance.
When I graduated from college, I had no idea what I wanted to do and went to my grandfather for advice. He said, "Do whatever it is that you love and success will come." He was so wise. That theory had held true for me as a student. If I wasn't interested in a subject (anything involving numbers literally gave me nightmares), I struggled. It was as if my brain had shut down. Conversely, when I loved something, such as psychology and sociology, I was great at it. I truly believe that if you are not passionate about something you probably won't succeed at it because you won't be driven to get up every day and work hard. I wanted to discover a career that I was excited about instead of one I felt I had to do.
Gillian Zoe Segal's Getting There: A Book of Mentors
I had always been in love with fashion. As a little girl, I was perpetually overdressed for everything and about five years ahead of the trend. When I got older, I was constantly doing everyone's hair and makeup. So, through a friend of a friend's sister, I was able to land a job as a fashion assistant at YM, a teen magazine, in New York City. I didn't even know what a fashion assistant was, but I figured that if it contained the word "fashion" it was where I was meant to be.
I learned so much at YM and truly loved what I was doing—producing and styling fashion shoots for the magazine—but at the same time it proved to be a real challenge. My boss made a habit of stealing the clothing we had access to and then falsely accusing me. We were in a continual battle, and as a result, it was a constant emotional struggle. Rodger, who was working like crazy as an investment banker at the time, would have to cheerlead and console me around the clock. He'd say, "Baby, you just have to keep going. What goes around comes around. There will be karma." I didn't think so—but one day my boss and I were on a photo shoot in Miami and the fashion director (my boss's superior) caught her stealing red-handed. She was fired on the spot, and I was given her job as senior fashion editor. It was amazing!
The fashion director then sat me down for a serious talk. She told me that in order to succeed in this industry I had to grow thicker skin and stop being so nice. The talk was discouraging and made me question my career choice for a while, but eventually I came to the conclusion that I didn't agree with everything she said. I did need to toughen up, and surviving the hardships with my boss made me realize that, but I believe people can be strong and nice at the same time. My father is the nicest person I've ever known and he has served as the CEO and president of several companies throughout his career.
My job at YM sent me all over the world, and I got to meet a lot of celebrities and models. I was working incredibly hard, but even though I was promoted to senior fashion editor within two years I was still only earning a small salary. I took stock of my situation and decided I'd be better off leaving my job to freelance as a stylist. Everyone asked, "Do you have any clients lined up?" I didn't. My plan was to work as hard as I could and make it happen.
I had made some connections with publicists, talent agents, and managers while working at YM. When I told them I was going freelance, they said, "You're hired." I started styling big music stars like the Backstreet Boys, Enrique Iglesias, Jessica Simpson, and Britney Spears, while also freelancing as a contributing editor for a number of fashion magazines. I was a one-woman show and working around the clock. I was on a plane every other day, traveling with ten trunks of clothes. It was extremely exhausting, but I loved being on my own and finally making a decent income.
Rachel with the Backstreet Boys early in her styling career. Photo: Courtesy of Rachel Zoe
Work frequently brought me to Los Angeles, sometimes for a month at a time. Eventually, Rodger and I decided to move there. Back then, the fashion scene in Hollywood was very different than it is today. The fashion world was not interested in Hollywood, and Hollywood, in turn, was intimidated by fashion. The red carpet, for example, hadn't yet become the place to showcase truly amazing fashion moments. But I didn't see why these two worlds couldn't be more integrated.
Through my freelance work, I met Jennifer Garner's publicist, and she hired me to style Jen for the Emmys at the last minute. This was my first big job working with an actress, and her being seen in the glamorous look I selected changed everything for me. Shortly thereafter, I transitioned into styling actresses and began working with Cameron Diaz, Kate Hudson, and Keira Knightley. I felt so lucky to be dressing such talented, beautiful women in haute couture. I also started meeting all of the fashion designers I had always idolized from a distance. I couldn't believe this was my job—but I don't want to totally sugarcoat it. While I may have been attending movie premieres and hanging out with celebrities, I was there to fluff my clients' trains, hold their handbags, and make sure they had ChapStick, lint brushes, and snacks on hand. I was there to provide a service and never lost sight of that.
Jennifer Garner styled by Rachel in the early aughts. From left: Garner at the 2004 Oscars in vintage Valentino Couture, at the 2007 Golden Globes in vintage Gaultier and at the 2004 SAG Awards in Ralph Lauren. Photos: Getty Images
I took chances and sent my clients out in looks that were unexpected and sometimes even slightly controversial. Fortunately, the response was mostly great. When it wasn't, I had to remind myself that both the client and I were happy and confident with the look and that's really all that mattered. If you don't take chances, then what's the fun in playing the game?
At the time, publications started to focus on candidly photographing celebrities during their down time, so I began dressing my clients for their daily life too. If they were going to be photographed getting coffee in the morning, why not do it in a great outfit? My clients began getting positive feedback on what they wore and everything snowballed from there.
I still work as a stylist but I have moved on to expand my business. In 2011 I launched my eponymous contemporary collection, including ready-to-wear, footwear, and jewelry. I've also published two books, was the executive producer and star of my own television show, and started a digital media company and online style destination, the Zoe Report.
I never made a blueprint for my future and don't believe in setting rigid career goals. Career paths usually require a lot of trial and error, and you have to allow yourself the freedom to go with the flow. Sometimes you think you should go in one direction, but it doesn't work out or feel right. Occasionally, a better opportunity presents itself and you start over in a different area. If you set a goal that isn't fairly realistic, you could be setting yourself up for failure—which can really set you back emotionally.
All businesses are competitive, but people in the fashion and entertainment industries can be especially catty and vindictive. In those worlds your social and professional lives are intertwined and there are a lot of superficialities involved. It often feels as though you were back in junior high school. It can be ruthless.
I was very naïve when I started and had a hard time figuring out who to trust. There were many instances where people who I had considered friends turned out not to be. It's been a constant learning curve, and I now have my eyes and ears open all the time. I'm far less naïve than before, but I am in a continual battle to not become cynical. I try to put blinders on, stay focused, be great at my job, and keep looking toward the future. There are enough clients and business opportunities out there for everybody. If you get too wrapped up in what your competition is doing, you'll just trip yourself up.
Rodger has become my business partner—he's my best friend in the world and ensures that I am surrounded by a team of honest, kind, and loyal people. We've found that those characteristics are the most important to look for—everything else can be learned on the job. When you find great employees, you must let them know how much you value them and hold on tight. My team is like family to me. It took a long time for me to have the confidence to relinquish control, trust, and even rely on other people.
Rachel and Rodger. Photo: Adam Katz Sinding
Of all of the roles I've ever taken on, becoming a mother has had the largest impact on me. It has given me a new, healthier set of priorities. I used to be very focused on myself and would spend the majority of my time thinking, How can I be better? How can I work harder? My career consumed and ran my life. When something went wrong, I would let it affect me too much—even petty, insignificant things. When my first son was born, it was as if a new life started for me too. I now have two sons and spend my time wondering how I can make their lives the best for them. Petty things can still upset me, but only for a very short time now. Then I look at my kids and realize, It does not matter. Negativity burns inside of you and keeps you awake at night. If you can avoid letting it consume you, I strongly suggest doing so. You will have more freedom to enjoy life and focus on important, productive things.