Not Even The Olsen Twins Were Spared From Polarizing Early Aughts Hair Trends
Side-swept bangs and chunky highlights galore.
Jim Spellman/WireImage/Getty Images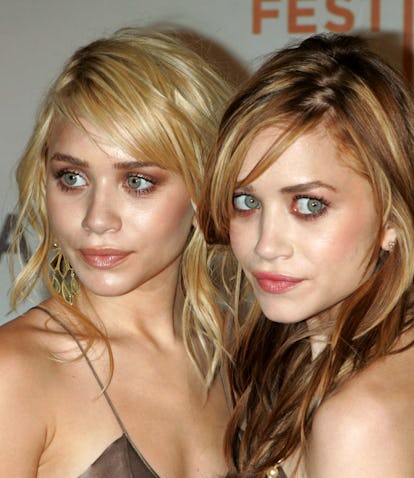 The Olsen twins are undisputed fashion and beauty icons — and it's safe to say that they have been since their Full House era. These days, though, The Row founders are all about timeless simplicity, evidenced by their go-to red carpet look of the moment: wavy, air-dried and oh-so-natural-looking manes.
Through the years — for the past 19, to be exact — the duo has relied on their go-to hairstylist Mark Townsend to perfect their strands. "When I first started working with them, their hair was very done," the pro exclusively tells TZR. "We spent a lot of time blow-drying the hair, making all the waves perfect, using tons of product." But as the years went on, he says "they started wanting to look more natural — especially with their hair."
Now, Townsend lovingly calls them "wash-and-go women" for their preference for low-maintenance styling. "I wait for their hair to dry as naturally as possible and then I usually take a double-barrel iron if there are any waves that need a little bit of reshaping." As for products, the pro reaches for a "soft styler" to tame any frizz and define their natural waves, plus — interestingly — dry shampoo.
"I couldn't begin to count how many cans of dry shampoo we've gone through over the past two decades," he continues. "It's the most-used product. I use loads of it to make the hair not look clean. To get a little bit of lift at the root, after it's dry, I spray the Dove Volume & Fullness Dry Shampoo for built-in volume at the crown."
Keep scrolling for a trip back in time to when the twins had side-swept bangs, highlights, and more.
May 2002
December 2003
May 2004
May 2006
November 2011
February 2012
June 2014
May 2016
May 2018
May 2019
June 2019