Jennifer Coolidge Launches A Lip Kit With e.l.f Cosmetics Called "Dirty Pillows"
elfcosmetics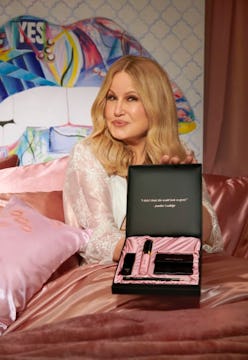 It's been a wild ride for Emmy and Golden Globe Winner Jennifer Coolidge. Even though the star has been in the Hollywood circuit for a while, starring in iconic titles like Legally Blonde and American Pie, her career has been hit with a renaissance since her comedic-yet-sincere portrayal as Tanya McQuoid in 2021's Emmy award-winning drama, The White Lotus. But it isn't just her on-screen characters that have captured the public — her charm and iconic one liners, both on and off screen, have secured her a spot in the hearts of Americans everywhere. This led to a collaboration with e.l.f. Cosmetics for a now-viral Super Bowl commercial seen by millions — and today, Coolidge is taking it a step further, debuting her own lip shade, courtesy of the e.l.f. Cosmetics x Jennifer Coolidge Dirty Pillows Lip Kit.
The inspiration comes from a blooper for the aforementioned Super Bowl segment where she's applying the e.l.f. lipstick shade in Dirty Talk. "I would come up with a shade called Dirty Pillow," she says, expanding on her thought by noting that "people always think they need to name a lipstick, like, a noun, but I think [of] just adjectives, like 'swollen." The public loved it, with one person commenting, "I love you Jennifer. I would buy 'Swollen' lipstick."
E.l.f.'s product team took this feedback and ran with it, quick to make the public's wishes come true. Coolidge's new Dirty Pillows lip kit— consisting of soft pink hues — will be hitting shelves on September 26, just a few months since that now-viral moment. The set will be available on e.l.f.'s website for $25 and includes a compact mirror, O Face Satin Lipstick, Lip Plumping Gloss, and Cream Glide Lip Liner. Coolidge stays true to her word, naming the kit's Lip Plumping Gloss — what else? — Swollen. E.l.f. truly is the beauty industry's fairy godmother — which makes Coolidge the playful and irreverent Cinderella we've been waiting for.