A How-To On Styling Skinny Jeans Like Gigi Hadid
Get the low-profile look.
JOHANNES EISELE/AFP/Getty Images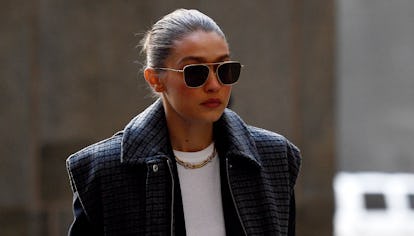 Every year it becomes more apparent that the "winter blues" can be associated with finding the right outfit for dull days, when the weather is unpredictable. And for some, finding the right pant to halo around (or tuck gracefully into) your favorite boots just furthers the daily dread of getting dressed. However, if you're still fretting over the best way to wear skinny jeans with boots this season, look no further than Queen G. With years of expertise stepping out in one leggy look after another, Gigi Hadid has mastered every cut, hem and style on the market.
On Jan. 16, the 24-year-old was seen stepping out onto the streets of Manhattan in a moody grey ensemble after being dismissed from jury duty. But beyond her Ganni Check Wool Vest and suit jacket, the supermodel rocked a pair of gunmetal skinny jeans and glossy patent leather boots, adding the perfect gleam to the low-profile look. It all works so well, but here's how.
The tapered pant she opted for sits just at the roomier-end of the skinny jean-spectrum, delivering a slim, yet breathable look. When styling this cut, it's tough to resist the urge to throw in the towel and reach for the nearest pair of no-fuss sock booties. Hadid, however, makes the case for her more refined (and infinitely more courtroom-appropriate) alternative.
Stepping into a boot with an ultra-low heel, the slender sole she opted for pairs perfectly with the minimal lines of her pants. So where does the magic happen here? With a tapered leg like this, the trick is to go for a boot that closely hugs the ankle, as to avoid clunky layering where the pant overlaps. It can also have some body to it — don't be afraid to find a sturdy leather that adds some dimension to the look.
Ever the perfectionist, Hadid can always be counted on for adding some noteworthy finishing touches. She matched a gold chain to her gold wire-framed Amavii aviators, keeping her hair twirled back in a slick bun. And, of course, the most New York of all accessories: a coffee cup.
Shop TZR's combinations of skinny jeans and ankle boots below: