See How Much Halle Berry's Hair Has Actually Changed Over The Years
From the early '90s, until now.
Getty Images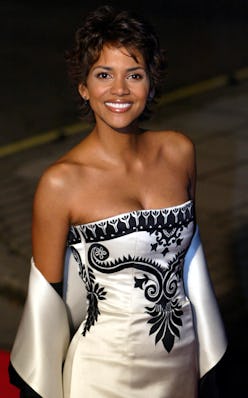 Over the last three decades, Halle Berry has sported countless different hairstyles — including but certainly not limited to her signature pixie cut, a textured lob, a bedazzled updo (so 2002), and a striking angular bob. Being that she's a beauty chameleon and has experimented with seemingly endless styles during her time in the spotlight, it's near-impossible to narrow it down to just a few favorites. To this day, the 54-year-old actress's hair is ever-changing, though it's worth noting that she's been pretty loyal to life as a brunette.
As you'll see ahead, Berry has oscillated between short, medium-length, and long hair throughout her entire career — that, and she's repped just about every single style under the sun. Bangs, eclectic updos, a chin-grazing bob; you name it, and chances are she's tried it. Oh, and in case you're wondering, the artist responsible for nearly all of Berry's hair looks as of late — including the iconic chop she debuted at the Oscars this year — is Los Angeles-based hairstylist, Sara Seward. (From the looks of her Instagram, she seems to be a huge fan of using brands like Oribe and Leonor Greyl on Berry.)
Now that you have some background on Berry's hair, are you ready to witness some of her most iconic styles from over the years? If you're curious, just keep on scrolling.
The Early '90s
In the early '90s, Berry debuted her signature pixie cut, which featured full-on fringe and lots of volume.
The Mid '90s
At the 1995 People's Choice Awards, Berry rocked an ultra-short pixie with a diamond-studded to glam up the style.
The Late '90s
The actress wore this iconic updo with tendrils falling out for one of the first red carpets she walked without short hair.
The Early '2000s
This flippy pixie cut from the early aughts is easily one of Berry's most legendary looks — and you can see why. The subtle fringe frames her face beautifully.
The Mid '2000s
At the Cannes Film Festival in 2003, Berry stepped out with long, auburn ringlets, which she wore loose around her shoulders with a stark middle part.
The Late '2000s
The beauty chameleon repped a sleek bob at an appearance in 2009 — complete with caramel highlights for some extra dimension.
Early '2010s
For the 23rd annual Oscar awards, Berry went back to her signature, slightly spiky pixie cut, with her strands kept shorter on the sides and fuller on top.
Mid '2010s
In 2014, the actress debuted a textured long bob with a sleek middle part and curtain bangs for the God's Love We Deliver Golden Heart Awards in New York City.
Late '2010s
In the latter half of the decade, Berry began wearing her hair long — and in updos — to almost every event. Here, at he 2019 Golden Globes, she wore it pulled back into a low ponytail with subtle curtain bangs and multi-dimensional highlights.
2021
At the 2021 Oscars, Berry wowed everyone when she stepped out with newly short hair. Seward gave the star an ear-grazing, subtly angled bob with baby bangs for added drama.