Victoria Beckham, Gigi Hadid, & More Pay Tribute To Karl Lagerfeld
Pascal Le Segretain/Getty Images Entertainment/Getty Images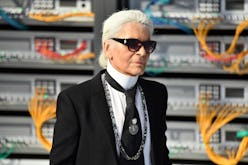 Fashion icon and creative director of Chanel Karl Lagerfeld has died at 85 years old, several outlets are reporting. Since the news broke early Tues. morning, celebrities and fashion insiders have taken to social media with touching tributes to the legendary designer. The likes of Victoria Beckham, Gigi Hadid, and Donatella Versace have already paid their respects, proving the monumental impact Lagerfeld had on those he worked with.
Rumors surrounding the designer's health began circulating in late Jan. when Lagerfeld was absent from his Paris Haute Couture show, People reports. At the time, Chanel shared with WWD that Lagerfeld was "feeling tired" and "asked Virginie Viard, director of the creative studio of the house, to represent him and greet the guests alongside the bride."
Although a direct cause of death has yet to be confirmed, there has already been an outpouring of heartfelt messages from those who knew Lagerfeld. "There will never be another Karl Lagerfeld. Every second with you as an honor, joy and inspiration," Gigi Hadid, who was a constant fixture on Lagerfeld's runways, shared in an Instagram Story on Tues. morning. "I wish I could give you one last hug."
Ahead, The Zoe Report shares messages honoring Lagerfeld from Victoria Beckham, Gigi Hadid, and more.
Victoria Beckham
"So incredibly sad to hear this. Karl was a genius and always so kind and generous to me both personally and professionally. RIP 💔x vb," Beckham captioned a photo of Lagerfeld on Instagram.
Gigi Hadid
"There will never be another Karl Lagerfeld. Every second with you as an honor, joy and inspiration. I wish I could give you one last hug," the model shared in an Instagram Story.
Donatella Versace
"Karl your genius touched the lives of so many, especially Gianni and I," Versace wrote on Instagram. "We will never forget your incredible talent and endless inspiration. We were always learning from you."
Anna Wintour
"Today the world lost a giant among men. Karl was so much more than our greatest and most prolific designer— his creative genius was breathtaking and to be his friend was an exceptional gift. Karl was brilliant, he was wicked, he was funny, he was generous beyond measure, and he was deeply kind. I will miss him so very much," Wintour shared in a tribute on Vogue.
Winnie Harlow
"You told me you knew who i was and that the grace i walked with reminded you of a young Naomi Campbell. Wow.. those words will ring in my head forever," Harlow wrote of her first interaction with Lagerfeld.
Bella Hadid
"His humor, wit , love and passion for fashion will live on forever," Hadid wrote in her Instagram tribute. "Thank you for the inspiration that you gave to this world and for all of the hearts that you touched in the process."
Alexa Chung
"I remember being so scared to interview you and yet you were in fact incredibly witty and generous," the model shared. "Thank you for inviting me to some of the most glamorous experiences of my life, it was an honour to know you."
Naomi Campbell
"I THANK YOU , THANK YOU, THANK YOU !!! For taking the chance on 16 year old girl from South London and opening my eyes," Campbell wrote.
Diane Kruger
"I will never forget your kindness towards me, your laughs, your imagination," Kruger wrote on Instagram. "I came to France to see you this week and introduce you to my daughter...I'm heartbroken I was too late."
Kaia Gerber
"My dearest Karl, you have taught me things that I am eternally grateful for. I cannot put into words how lucky we all are to have been gifted your vision," Gerber captioned her photo.
Olivier Rousteing
"How one can describe with words losing the person he looks up to and aspires the most, source of inspiration and motivation," the creative director of Balmain shared. "A true legend that never played by the rules but also set most of the ones people follow today."
Marion Cotillard
"Your Being was so vibrante, your profound kindness, your curiosity of the world and humanity touched me so deeply. What you have left is Alive, Luminous and Bright," the French actor shared on Instagram.
Iman
"Iconic, Extraordinary Talent, Gentle, Kind, Genius, Lethal Wit & Wicked sense of Humor! You will be missed RIP Karl Lagerfeld," Iman wrote on Instagram.
Marc Jacobs
"Waking up to a world without Karl. So sad. And strange. He was a great inspiration to me, and, undeniably a unique and extraordinary talent," the designer wrote.
Kris Jenner
"It was such a thrill and a pleasure to have met you, to have worked with you, and to have experienced the amazing times when you would photograph my girls for your beautiful campaigns," Jenner wrote on Instagram.
Valentino
"I am so sad and the words cannot express my sorrow! I love you my friend.. aurevoir," Valentino captioned his photo.
Brandon Maxwell
"Those of us working towards a life in fashion will most likely never reach the level of genius, admiration, and craftsmanship of this wonderful man, a rare combination that touches only but a few of the brightest stars, but we can learn a thing or ten from him about how to live a life in fashion that means something and that touches people," the designer shared in his touching tribute.
Claudia Schiffer
"What Warhol was to art, he was to fashion; he is irreplaceable," the model wrote.