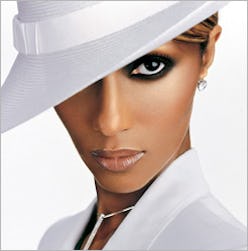 Iman is one of those rare people who embodies everything that is amazing about a woman – she is brilliant, confident, beautiful, kind, generous, strong and has an innate sense of self and style. From her unparalleled success as a supermodel to her entrepreneurial achievements and commitment to philanthropy, Iman will continue to be one of the greatest influencers and leaders in fashion. Please read her words below…you can thank me later. –Mandana Dayani
Her first job in fashion… "I got my first booking as a model with Vogue just three days after I arrived in NYC from Kenya."
"One of my all time fave photos." — via @the_real_iman.
Her job today… "Now I'm the CEO of IMAN Cosmetics, designer of IMAN Global Chic exclusively at HSN and a textile designer for IMAN Home."
Her typical day… "There is no typical day. From product development and testing for my skincare and cosmetics line to fabric selection and approving samples for my apparel and home collections, I can truly say I'm never bored."
Her beauty picks: "IMAN BB Creme, IMAN Afterglow Bronzer, IMAN Red Lipstick."
The best career advice she's ever received… "Ask for help, network with other women executives and you will be amazed how they will help and lift you up."
Her biggest career challenge… "In a world of mediocrity the challenge is learning how to stay fresh and relevant. Learning how to be curious but not too trendy…Keeping up with the Joneses is death to me. But at the same time I'm in a business of service so the challenge is always how not to go with the flow but to create the flow."
The fashion mistake she hates to see other women make… "Hiding their femininity and dressing like men."
Photo: Courtesy of IMAN Cosmetics.
The career mistake she hates to see other women make… "Not speaking their minds, not owning and showing their worth. Remember, ladies, intelligence is sexy!"
Her advice to someone trying to break into the fashion world… "Be prepared to work harder and aim higher. Have a point of view. Intern, intern and then intern some more. Learn as much as you can from the best and then toss it all out and create your own vision."
"Working with IMAN Home fabrics and found a great bohemian piece as a scarf." — via @the_real_iman.
What a woman should wear to a job interview in the fashion industry… "You can't go wrong with a perfectly tailored cut of a Stella McCartney suit, especially a pant with a tapered ankle (better to show your ankle booties!). Invest in gorgeous accessories, no matter what your age is. Accessories are the stars in my closet. In a job interview in the fashion industry, the right accessory will seal the deal."
Who she's dying to work with… "Tom Ford! I stopped modeling when he started!"
Her fashion crushes: "Rachel Zoe and Jenna Lyons…complete opposites and both originals. Michael Kors, too. He hasn't lost his enthusiasm for his work, his love of luxury, and just plain making women feel good and look sexy." Photo: Getty Images
Her office wardrobe staple… "I'm a pant girl so pants are definitely my wardrobe staple. I have pairs by everyone from Saint Laurent to Stella McCartney."
Her fall shopping list… "Leather pants, especially Rachel Zoe's slouchy ones, Victoria Beckham's cement grey below-the-knee dress and everything from Lanvin and Haider Ackermann's fall shows. Oh, and the Prada Saffiano soft leather tote in gray (gorgeous!). I fractured my foot last summer and it hasn't healed well so I'm on the fence about shoes…bummer!"
Fall 2013 runway looks. From left: Haider Ackermann, Victoria Beckham, Rachel Zoe, Lanvin. Photos: Courtesy
Her off-duty uniform… "Donna Karan's the Pitch pant from her the Body Pant collection is to die for — comfort and chic at its best. And of course, anything from her cashmere collection."
How she balances work and personal life: "My family comes first and foremost. No comprises." Photo via @the_real_iman.
Three things people don't know about her… "I'm very good at needlepoint, I'm a very good cook and I'm a chic hoarder (I still have my Alaia pieces from his first collection!)".
A needlepoint pillow Iman made for her daughter, Lexi, when she was born. Photo: Courtesy
What she would tell her college-self now… "You're not in control so stay calm, be kind and everything will turn out alright."