Viola Davis Got Very Emotional On Hollywood's Walk Of Fame, And We Had To Hold Back Tears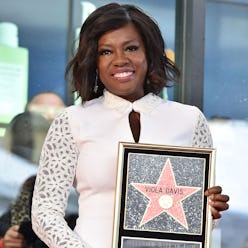 She had planned for this day to be just like any other, but when Viola Davis appeared on the Hollywood Walk of Fame to receive the first star of the year, she understandably got very emotional. We fought back tears as we watched the Fences actress accept the prestigious honor, dedicating the moment to her father.
"I wish he were here," she said. "He died in 2006, and he would think this is pretty fantastic."
But it was the speech that recalled her difficult childhood in Rhode Island that had us feeling all sorts of emotions. Viola, whose impoverished upbringing occasionally had her jumping into garbage bins for food, talked about the only photo she had of herself—a portrait of a kindergartener whose expression was neither a smile nor a frown, "just something."
"But every time I look at the little girl, I always thought, 'Oh, that's a cute outfit but she was always hungry, she was always shy, she was always kind of in the background, but inside she had big dreams bursting,'" she continued.
And those dreams became a reality for Viola—a Golden Globe-nominated, Tony- and Emmy awards-winning powerhouse, whom former co-star Meryl Streep herself called "a force of nature." She's now the 2,597th entertainer to reach this milestone, with her film and television performances proving her wholly deserving.
"And the only thing I could think about is that saying, 'What the caterpillar calls the end of the world, the master calls the butterfly,'" Viola said. "I cannot believe my life right now."