You Won't Believe These Victoria's Secret Models' Most Romantic Moments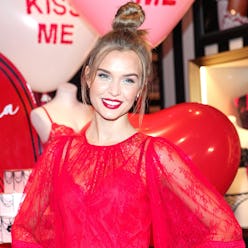 Valentine's Day doesn't have to be synonymous with cheesy declarations of love. In fact, sometimes the most thoughtful gestures are small, unexpected or downright strange (in a good way). In this spirit, we tapped a few ladies who know a whole lot about romance—the Victoria's Secret Angels. From heartfelt mementos to over-the-top acts, here are four times the Angels have felt all the feels.
Happy Valentine's Day!
Adriana Lima
"Well, it's not romantic necessarily, but the best gifts I receive on Valentine's Day are from my two mini Angels [my children]. They treat me with yummy chocolates or decorated cookies and handmade cards. They're so cute, and I keep them all!"
Martha Hunt
"Years ago, a boyfriend graffiti-stenciled images of me on some of my favorite locations in NYC. He even tagged a water tower across from my apartment so I could see it every day when I looked out the window! It was romantic (in an illegal kind of way)."
Josephine Skriver
"Some of the most thoughtful things are ones people spend time on, because we all live such hectic lives. Maybe it's just sending me a small note or spending the day with me. Whether it's your girlfriends, boyfriend or family, I just think it's important to celebrate and let the people you love know that you love them."
Alessandra Ambrosio
"I have to say, every year I am so surprised by the amazing gifts that my children make for me. They're always so thoughtful and brighten my day."