Taylor Swift's Sexual Assault Deposition Has Been Released, And It's Very Disturbing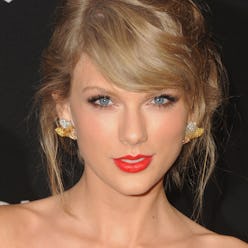 In the past year, Taylor Swift has been relatively absent from the music industry but has managed to stay in the spotlight with the Calvin Harris breakup, Tom Hiddleston fling and her controversial involvement in Kanye West's hit song "Famous." Now the singer is making headlines yet again—starting with her surprising first concert of 2016 and this weekend's release of court papers that detail her alleged sexual assault.
Taylor's legal battle with radio DJ David Mueller began in 2013 when the pop star and her security team accused him of groping her while posing for a photo at her Denver concert. Two days later, Mueller was fired from his station and filed a lawsuit claiming that he lost his job due to the accusation. He also said that his former boss Eddie Haskell was the one who inappropriately touched her. Taylor then filed a countersuit last October demanding a jury trial.
Although the photo taken during the meet-and-greet remains sealed from the public, court documents of Taylor's video deposition have been released. In the transcript obtained by Billboard, she explains her account of the events that transpired that June day.
"Right as the moment came for us to pose for the photo, he took his hand and put it up my dress and grabbed onto my ass cheek and no matter how much I scooted over it was still there," Taylor said. "It was completely intentional, I've never been so sure of anything in my life."
"I remember being frantic, distressed, feeling violated in a way I had never experienced before," she continued. "A meet-and-greet is supposed to be a situation where you're thanking people for coming, you're supposed to be welcoming people into your home, which is the arena for that day, and for someone to violate that hospitality in that way, I was completely stunned."
While no decision has been made regarding the monetary aspect of the case, Taylor has previously promised to donate proceeds to charitable organizations that protect women from sexual assault.