Selena Gomez And Justin Bieber Are Packing On The PDA, So Clearly This Is A Thing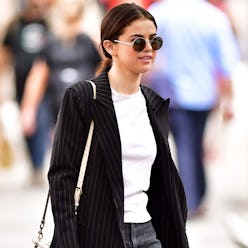 Updated November 16, 2017: If the hand-holding, bike-riding and blatant canoodling (yes, we used that word) weren't enough proof, we now have a smooch. Oh yes, Selena and Justin were seen packing on the PDA at the Biebs' hockey game yesterday and they weren't trying to hide a thing. Oy. We'd tell them to get a room, but they're pretty cute together, so we'll just let them have this very rom-com moment. Check it out here.
Original post, November 14, 2017: In what seems to be becoming a habit with these two, Selena Gomez and Justin Bieber have been spotted on yet another public excursion (or date?) in the form of a romantic stroll at Lake Balboa in Los Angeles. The exes, who may or may not have rekindled their romance in the last two weeks, were candidly photographed by a fan looking happier than ever—and we can't help but ship Team Jelena all over again. Just look at them not at all minding the pap moment:
Ah, that same old love.