Jennifer Lawrence, Brie Larson And More Are Speaking Out For Planned Parenthood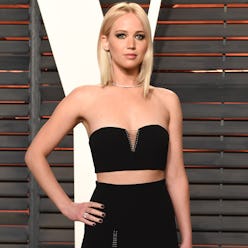 You might have heard it on the morning news, read about it in your daily briefing or simply overheard a coworker share her opinion on the matter. A revised version of the Senate healthcare bill might come to a vote this week, and with it comes one of two outcomes: either the Affordable Care Act will remain the country's healthcare policy in an administration that actively seeks its end, or senators will approve the measure, which would not only mean that millions more Americans would be left uninsured but also result in higher premiums for senior citizens and defund Planned Parenthood for at least one year, among other consequences.
The controversial and contentious bill as elicited a wide array of responses—including celebrities who came together in a video PSA, urging fans and followers to take action as they stand with the reproductive healthcare nonprofit which provides cancer screenings, STD testing and birth control to nearly 5 million people every year. Jennifer Lawrence, Brie Larson, Jon Hamm and Amy Poehler were among the A-listers who provided instructions to contacting senators, including scripts to clearly convey the message.
"The right to decide our own bodily future is the most basic of all human rights," feminist icon Gloria Steinem said. Watch the video here.