The Surprising Reason Nicole Kidman Related To Her Big Little Lies Character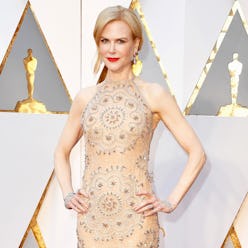 On the outside looking in, it doesn't seem like Nicole Kidman and her Big Little Lies character Celeste Wright have anything remotely in common. While the actress has been happily wed for 11 years to musician Keith Urban, her television alter ego was subjected to an abusive husband. In real life, Nicole fancies her simple family lifestyle; in the show, the wife and mother can't escape her relationship's violent and volatile chemistry behind closed doors.
In an interview for Vogue's September issue, the Oscar winner reveals that the damaged connection between Celeste and Perry is exactly why she wanted the part—despite previously admitting just how severe a toll filming took on her emotional well-being.
"Sex is a huge part of who I am," Nicole says. "Things collide in terms of my intellect meeting my sexuality, and it's a really complicated collision. It's what I'm drawn to. If Celeste was just in the marriage trying to get out—without the sexual chemistry and desire to stay there—I wouldn't know how to play her."
Certain scenes in the show are particularly difficult to watch (and surely more difficult to portray). Domestic violence is a terrifying reality for millions, and fortunately for Nicole she lives a compassionate life with Keith Urban. "They say kindness isn't sexy," she explains, "but it is." We wholeheartedly agree.