Nicole Kidman's Reaction To Those Big Little Lies Abuse Scenes Is So Heartbreaking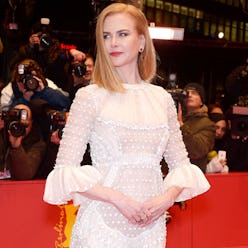 It's been two months since the finale, but we're still talking about the cult-favorite, mystery-filled drama that is Big Little Lies. While we couldn't get enough of Madeline's witty quips and Renata's fierce ways, it was Celeste's abusive relationship at the hands of husband Perry that had us at the edge of our seats. The domestic violence story line remains a stark parallel to the suffering endured by nearly 20 people per minute in the United States alone, and it's a harrowing reminder that this behavior can truly affect even the strongest of women (and men).
Take it from Nicole Kidman, whose portrayal of Celeste had her hair pulled, body bruised and even face buried to suffocation under a pillow. Despite the show being fictional, the actress isn't immune to the effects of filming these violent scenes, and in a roundtable interview for The Hollywood Reporter, Nicole opens up about her experience alongside six of the most talented female leads of modern-day television (think Elisabeth Moss, Oprah Winfrey and Chrissy Metz).
"I remember lying on the floor in the last episode, being in my underwear and having just been really thrown around," Nicole says. "I just lay on the floor. I couldn't get up. I didn't want to get up. And I remember [director] Jean-Marc coming over and putting a towel over me in between the takes because ... I just felt completely humiliated and devastated. And angry inside. I went home and I threw a rock through a glass door."
Reese Witherspoon adds that she got a call from her co-star that night: "She says, 'I've just done the craziest thing.' She got home from work and she had one of these horrible scenes, and she goes, 'I couldn't get into my hotel room so I threw a rock through the window.' And she goes, 'I don't do stuff like that.'"
The scenes were so difficult to watch, it's no surprise to learn they were even more difficult to film. Even after she left the shoot, Nicole admits she found herself "holding all that rage"—a sentiment understood by Jessica Lange, star of the Feud: Bette and Joan anthology series. "The amazing thing about being an actor is that your body doesn't understand that it's make-believe," Jessica says.
Although we're holding out for a second season, we're hoping it will be devoid of domestic abuse.