Watch Natalie Portman Transform Into A First Lady In The New Jackie Trailer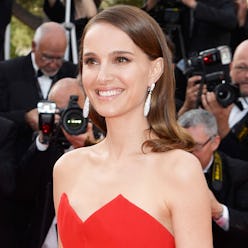 Update 12/2/2016:
We saw the first teaser two months ago, and now the Oscar-worthy biopic Jackie is finally in theaters. Starring Natalie Portman as the First Lady, this performance is bound to be talked about until awards season. Watch the official trailer here.
Original:
When Jackie first premiered at the Venice Film Festival last month, everyone raved about Natalie Portman―from her performance as Jacqueline Kennedy to the iconic outfits she wore in her portrayal of the former First Lady. Now we get to judge for ourselves with a teaser of the movie directed by Chilean filmmaker Pablo Larraín. Simply watching the trailer takes us back to the intimate moments that followed President John F. Kennedy's assassination and reveals the life of the widow he left behind. We even get a look at Jackie's chic wardrobe, including her timeless pink Chanel suit and matching pillbox hat. Although the movie doesn't debut until December 2, we just know Natalie has sealed that Best Actress Oscar nomination.