Miley Cyrus And Liam Hemsworth Were Seen Wearing Wedding Rings, And The Internet Is Going Wild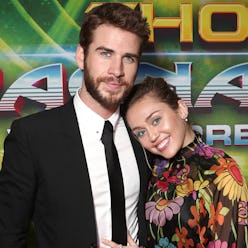 Seems to us every celebrity nowadays is getting married without sending us our invites (#rude), but we're going to let this one slide. After all, we have yet to receive confirmation from the couple, but during their romantic vacation in Tybee Island, Georgia, fans spotted Miley Cyrus and Liam Hemsworth on Jet Skis, nature strolls and—wait, are those wedding bands we see on their ring fingers?
On Miley's hand is both the engagement ring her fiancé gave her a few years back and a new band, while Liam was also spotted with a ring on that finger. Sure, it might be a stretch to say they tied the knot over the weekend, especially after Miley recently admitted she doesn't "envision marriage" in the near future. However, it's important to note that Tybee Island is the place the couple first met when they filmed The Last Song seven years ago, so it makes perfect sense they would return to their roots for the big day.