Mila Kunis Looks Amazing In Her First Red-Carpet Appearance Since Giving Birth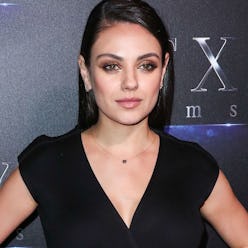 Just three months after giving birth to her son Dimitri Portwood, Mila Kunis is already prepared to return to the red carpet. At CinemaCon in Las Vegas, the actress stepped out in an all-black ensemble, looking radiant as ever while promoting the sequel to her hit movie Bad Moms.
Making her appearance even more memorable, the mother of two, who shares two-year-old daughter Wyatt Isabelle with husband Ashton Kutcher, didn't shy away from questions about adding a baby boy into the mix. "It's different," she said at the event. "He's also three months old, and you forget what sleepless nights are like. I remember, guys."
But it was the dynamic between baby Dimitri and his big sister that gave us the feels. "She loves her brother," Mila said. "She wants him to sleep in her room and doesn't get jealous or envious. She's great. We got very lucky."
We have to say motherhood certainly sounds good—and looks good—for this one.
Photo: Splash News