Meghan Markle Finally Breaks Her Silence On Her Relationship With Prince Harry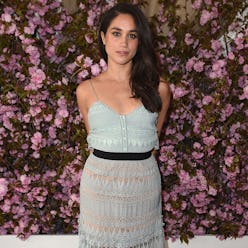 Since Meghan Markle was first linked to Prince Harry, the Suits actress hasn't had a break from the media storm centered on her budding romance with the British royal. At one point the couple, who met in London last summer, was so inundated with buzz and rumors that Kensington Palace released a statement appealing to the press to back down. Understandably, coverage hasn't ceased—and in fact, the two will no doubt be the subject of even more speculation now that Meghan has finally opened up about the relationship in a rare interview for Vanity Fair's October cover story.
Despite remaining notoriously private about their love story, Meghan has seemingly handled her newfound fame with grace and responsibility. "It has its challenges, and it comes in waves—some days it can feel more challenging than others," she says to VF. "And right out of the gate it was surprising the way things changed. But I still have this support system all around me, and, of course, my boyfriend's support." (Yes, she officially referred to the prince as her boyfriend!)
As for how she deals with continued scrutiny, Meghan proves in her answer that love truly conquers all. "I can tell you that at the end of the day I think it's really simple," she says. "We're two people who are really happy and in love." Adding that they were secretly dating for six months before news of her relationship broke: "I was working during that whole time, and the only thing that changed was people's perception. Nothing about me changed. I'm still the same person that I am, and I've never defined myself by my relationship."
Meanwhile the actress acknowledges that her future with the prince—royal wedding or not—remains to be seen. "I'm sure there will be a time when we will have to come forward and present ourselves and have stories to tell, but I hope what people will understand is that this is our time," she says. "It's part of what makes it so special, that it's just ours. But we're happy. Personally, I love a great love story." So do we.
Get to know Meghan here.