Meghan Markle Is Reportedly Moving Into Kensington Palace, And We're Jealous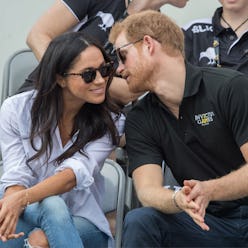 We're gonna say what everyone else is thinking: Meghan Markle is literally a modern-day Grace Kelly. For the past year and a half, the actress has been living our wildest childhood dreams in that she was wooed by one Prince Harry, quit her job and is now officially moving into a castle—Kensington Palace, no less. Yes, according to People, Meghan and Harry will be shacking up in his two-bedroom Nottingham Cottage on the palace grounds. We don't want to jump the gun, but are those wedding bells we hear in the distance?
Anyway, back to the ceremonious move-in: According to People's source, "Harry has been making subtle changes at home in order to make it more girlfriend-friendly." We think that's a smart move and proof this next step is a big one if furniture and home decor are involved. Just sayin'.