Women of Style: Mandana Dayani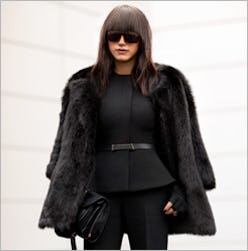 In this new weekly series, The Zoe Report interviews stylish, accomplished women from all industries on their big career breaks (and mistakes) along with what must-have items they're wearing and buying right now. Kicking off the Q&A is our own super-chic Vice President, Mandana Dayani (a.k.a. Rachel's right-hand woman). Got a career or style q of your own? Ask Mandana on Twitter at @mandanadayani and @thezoereport.
Her first job in fashion… "After practicing law at a corporate firm, I worked at a talent agency for a year and then joined our company to help launch the Rachel Zoe Collection and to grow the company's initiatives in digital media, publishing, television production, brand partnerships, product development and strategic investments. I still remember it as one of the most exciting times of my life."
Mandana at Fashion Week. Photo: Courtesy of Mr Newton
The best career advice she's ever received… "My first boss told me that people are judged by how they do the little things. I couldn't agree with this statement more. How quickly you offer to help others, the way you shake hands, email etiquette, punctuality, initiative, how early you come in and how late you stay – these are the characteristics I notice most."
Her fashion crushes… "French model/singer/actress Lou Doillon and publicist/producer/entrepreneur Desiree Gruber. I love Lou's effortless and confident Parisian style. And I have always been so inspired by Desiree – she is brilliant and the ultimate power woman."
Lou Doillon. Photo: Getty Images
On role models… "I would have to say the absolute best part of my job is having the opportunity to work alongside a strong, smart, loyal, ambitious woman and mother – a role model and a huge source of inspiration for everyone at our company. I never fully understood the importance of a 'role model' until I began working with Rachel. But witnessing firsthand her ability to balance family, work and life has really enabled all of us to believe that, well…we can have it all."
Rachel, Mandana and Skyler at the Fall 2013 Collection walk through. Photo: @mandanadayani
Her biggest challenge at work… "My biggest challenge is managing my time and expectations. I hate saying no to anything and I am extremely competitive, which is an unhealthy combination. Learning how to set boundaries for what I can do in any given day, how to prioritize my obligations and when to delegate have been invaluable in becoming more effective at my job."
Fave Office Heels: Rupert Sanderson's Elba Pumps. Pictured in Coco Python, $1055
The biggest career mistake she sees women make… "Entitlement. I find it abhorrent when anyone declares an expectation of something they haven't earned. If you want something, earn it. It just feels so much better when you achieve it."
Her office wardrobe must-haves… "My leather Phoenix trousers from our Fall 2013 collection and my leather pencil skirt from The Row. Both look amazing with anything from a blouse and fitted jacket to a slouchy knit or LNA t-shirt."
Rachel Zoe, Fall 2013. Phoenix Trousers, $825.
What a woman should wear to a job interview in the fashion industry… "Dress appropriately. If you have any doubt about it, don't wear it. A strong-shouldered blazer, cropped pants or a pencil skirt and perfect stilettos exude confidence and power. You can let your personal style really come through with a carefully selected accessory like your handbag or a great piece of jewelry."
The Row's Leather Pencil Skirts. Norick skirt in blush, $2050, Fistian skirt in black, $1850.
Where she shops… I love to shop online and at vintage stores. I also tend to "borrow" a lot of our samples. I can't stop wearing our fall collection. Did I mention our Pheonix trousers?
Fall Shopping List: (Clockwise from left) Proenza Schouler double breasted jacket; Celine pleated leather skirt; Celine Fortune Cookie bag; Haider Ackermann python pants; Rachel Zoe pony hair sweater; Prada Boyfriend boots. Photos: via Style.com
How she recovers from a long day at work… "I make guacamole and lie out in my backyard with my puppies, husband and friends and read magazines. There are very few things that make me happier."
Post-work bliss. Photo: @mandanadayani