Lindsay Lohan Looks Better Than Ever On Her First Magazine Cover In Two Years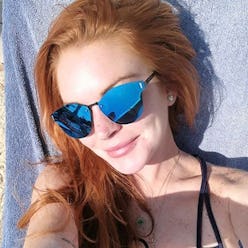 Long before young women started having breakdowns on their social media pages, the world watched as its most famous ladies—think Britney, Lindsay and Mischa—melted down in real time, to the glee of a burgeoning (and mean-spirited) internet. Britney's since made an epic comeback (side note: Her Instagram account is incredible), and now it appears as though Lindsay Lohan might be poised to do the same. The actress posed for L'Officiel Spain's October issue looking absolutely stunning and more au naturel than we've seen her since she was a child star. We—along with most of the internet, it seems—couldn't be happier about this unexpected development in Lindsay's tumultuous life story.
L'Officiel Spain
It's not just the Prada-clad cover, however, that has the 'net talking. The editorial features the Parent Trap star in brands like Vetements, Calvin Klein, Marni and Loewe. "I love the direction Gucci is going in. I am obsessed with Vetements. Özlem Öztürk from Turkey is great, and Melinda Loo," she told the magazine. She also divulged that she'll soon be launching a line called LOHAN, which, if it's influenced by any of the aforementioned designers, may just be worth keeping tabs on. Riskier, we think, is her decision to also venture into life as a nightclub owner (a former party girl no-no), though we must admit that few know nightlife quite like Ms. Lohan.
We'll have to wait and see what Lindsay delivers in coming months, but for now we're just happy this editorial exists, as we've been missing the Mean Girls–era Lindsay for over a decade. See more pics from the magazine below.