Lily Aldridge Reveals The Workout That Gets Her Ready For The VS Fashion Show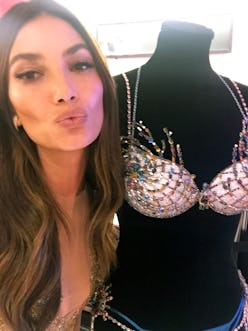 Big news in the world of lingerie: This year's Victoria's Secret Fantasy Bra has been revealed, and doing the honors of donning the glitzy masterpiece is none other than Lily Aldridge. We caught up with the preternaturally gorgeous model to get the inside scoop, and learned a few things too good not to share.
When asked about her exercise of choice leading up to the annual VS Fashion Show, she revealed how she kicks things into high gear: "I try to exercise an hour and a half a day in the month leading up to the show. I'll do 30 minutes of cardio, take a break, then come back and do another hour later on. All the girls do different workouts, but I do Ballet Beautiful—this is the one that works best for me." Cue us running for the hills to grab our leotards—any workout that has Lily's seal of approval has ours, too.
Though the show tapes this month, it airs in December and we'll be waiting with bated breath to see Lily strut her stuff in the $2 million bra. Oh, and in case you were wondering if she gets to keep it? "I wish!" she quipped. Guess we can all keep dreaming.