Women Of Style: Givenchy's Libby Rann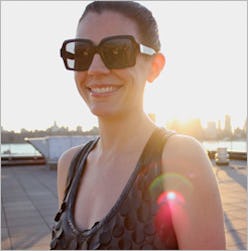 Next week you will read this advice from Iman: "Network with other women executives and you will be amazed how they will help and lift you up." With this Women of Style series, we hope to introduce you to such women – those who can inspire and guide you and provide insight into opportunities you may never have known existed. (I definitely could have used this intel before I landed my dream job.) In today's story, my friend Libby Rann, Givenchy's national sales director, will give you details on how she landed this incredible job, how you might be able to get your foot in the door and why the brand's leather leggings must be in your SOS kit. –Mandana
Libby at home in Brooklyn.
Her first job in fashion… "I studied fashion merchandising in college at the University of Georgia. My senior year I was given the opportunity to come to New York for a sales internship for a designer duo that focused on red carpet dressing. I fell in love with the city and decided I had to move here. My internship turned into my first full-time position in fashion and I've been here ever since."
Givenchy, fall 2013.
Her job today… "My job is to ensure that the Givenchy brand is represented at the highest level. No two days are the same. I could be in Paris or Milan for the selling campaigns, traveling domestically to the stores, or in meetings in the New York office. It's always changing and I'm always learning how to adapt to the needs of a growing business."
Her fall shopping list: Givenchy gypsy dress, a plane ticket to Marrakech, Morocco ("I'm dying to go"), Givenchy gold chain Chelsea boots and Pandora Box crocodile bag, T. Anthony monogrammed luggage, and Le Labo Patchouli 24 unisex perfume.
The skills required… "Of course loving fashion is a must, but in order to be successful you not only have to appreciate the aesthetics but also need to understand the bigger picture, which is running a business. Being numbers-oriented, analytical and driven are equally important."
Her biggest challenge at work… "Switching gears constantly between new seasons, collections, budgets, etc. It's also what keeps me interested and moving forward."
Her office wardrobe staple… "Givenchy's black leather leggings. I am petite so it's impossible for me to find leather leggings that don't have to be altered. These ones are cropped and on me are the perfect length! I usually keep the ankle zippers completely undone so they can go over my heels or booties and they look more rock 'n' roll that way. I own them in black, bright red, and soon, burgundy."
Givenchy leather leggings, $1642
What she looks for when hiring someone… "I need to envision them as a brand ambassador, so I am looking for passion, charisma and a sense of individuality."
The biggest career mistake she sees women make… "Exclusion. We work in an industry dominated by women, which is rare. We should take advantage of that and lift each other up."
What a woman should wear to a job interview in the fashion industry… "A menswear-inspired tuxedo jacket with a crisp white cotton shirt and skinny black pants."
Her style icons: Anita Pallenberg and Keith Richards circa 1968-1972. "I would have loved to live then."
The best career advice she's ever received… "Skills can be learned but character can't."
Her role model… "Easy — that would be my mom. She was a single mother raising two kids and she still always made time to encourage me and keep me focused."
What she would tell her college-self now… "You won't think that tattoo is as cool as you did in college! All kidding aside, the most important thing is to learn from the mistakes that you have made and to enjoy everything along the way."
Off-duty uniform: The Row sweaters, Converse Chuck Taylors in white, ripped jeans, Band of Outsiders men's shirts, Omega Seamaster watch.
Her industry crush… "My husband! He works for Band of Outsiders and is incredibly talented, smart, a wonderful dad and, of course, handsome."
How she finds balance… "I have a really busy travel schedule, so time at home in New York is sacred. I make it a point to be at home for my son's bedtime and for dinner with my husband. I'm successful with that goal most of the time…"
How she recovers from a long day at work… "A walk around Brooklyn with my family and our pug, Sabine. Getting some air always gives you a fresh perspective."
Libby's family.