Kim Kardashian And Kanye West Celebrate Their Anniversary With These Never-Before-Seen Wedding Photos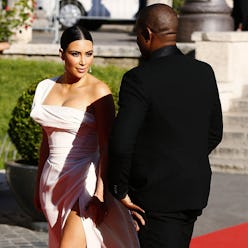 During the course of their three-year marriage, Kim Kardashian and Kanye West have withstood their fair share of trials, from the notorious #KimExposedTaylorParty to the horrific Paris robbery and Ye's widely publicized mid-tour breakdown.
But as love would have it, the couple remain stronger than the rumors that try to break them. For their anniversary, Kim marked the occasion with a heartwarming trip down memory lane—which also serves as a reminder to doubters of where her marriage stands. (All good, thank you very much.)
As she does every year, Kim took to her website to share with her fans never-before-seen photographs of the three-day affair that was her wedding back in 2014. But this time, she focused on her dress fitting with former Givenchy designer Riccardo Tisci—with an adorable cameo by North to boot.
"I can't believe it's been three years," the reality star wrote. She also posted a separate photo on Twitter just for husband Ye with the sweetest of captions: "3 down, a lifetime to go."
Kim has been keeping a relatively low profile in public and on social media, and she's spoken out about how being held at gunpoint led her to reevaluate her priorities, including paying more attention to her family. It seems the Kardashian-Wests are in a better place now, and we couldn't be happier for them. Happy anniversary, Kimye!