Kim Kardashian And Kanye West Have A Major Fashion Project In The Works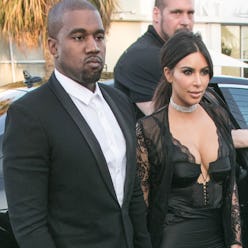 From her DASH clothing boutiques to his Yeezy brand, Kim Kardashian and Kanye West have successfully tackled mainstream fashion, so it only makes sense that they attempt to conquer the children's clothing department as well. And it looks like they're about to do exactly that: Talks of the two collaborating on a new line have been officially confirmed. In a series of Snapchat posts and videos, Kim gave fans a sneak peek into the first pieces of the collection, including a matching yellow sequin dress and shearling coat—naturally modeled by the couple's three-year-old daughter North West.
"Northie picked out the colors and the fabric," Kim explained. Clearly, North didn't inherit her parents' penchant for neutral tones.
Photo: @kimksnapchats
Just look at that pose. (Do we predict a modeling career in this little one's future?)