What You Didn't Know About Kendall Jenner's Friendship With Bella And Gigi Hadid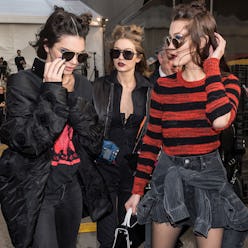 Kendall Jenner's circle of friends truly makes for #SquadGoals. After all, the supermodel counts Hailey Baldwin, Cara Delevingne and the Hadid sisters among her besties—and it's not surprising that the timelines to her fashion friendships widely vary. In a recent interview with famed photographer Mario Testino, Kendall revealed that she has been close with Bella much longer than with Gigi. (Who knew?)
"Gigi and I just started getting close when we started modeling, but Bella and I were actually really good friends since high school and hung out every day in school before either of us started working," she said in the 10-minute podcast.
Kendall, who is closer in age to Gigi (she's just six months younger compared to almost a whole year older than Bella), launched her modeling career at a similar time as the older Hadid. "It's just funny because a lot of people don't know that Bella and I have been friends for like five or six years," she added.
Ah, the things we would give to be a part of that girl squad.