Kendall Jenner Opens Up About The Terrifying Encounter With Her Stalker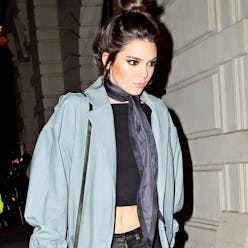 Update 3/24/2017:
Like her sister Kim Kardashian did following her traumatic Paris robbery, Kendall Jenner is taking to Keeping Up With the Kardashians to explain what happened the night she encountered her alleged stalker in August. In a promotional clip for the show, Kendall recounts the moment she faced Shavaugh McKenzie, who was found guilty of trespassing (but acquitted of a stalking charge) after he snuck past the supermodel as she was driving into her gated residence at night.
"I look in my rearview mirror, and he was standing right there," she tells mom Kris Jenner and friend Scott Disick. "I just saw his figure. In the gate, right behind my car. I'm freaking out."
Since the incident, Kendall has reportedly ramped up security and admitted that her outlook on life has changed. "I used to be the one who was so independent," she says in the clip. "I was always kind of by myself in a good way, but now it's fully flipped."
This Sunday's episode will air just a week after the news that Kendall's Hollywood Hills home was reportedly burglarized. Watch the teaser below.
Update 10/25/2016:
A verdict has been reached in Kendall Jenner's alleged stalking case. Although he was found guilty of trespassing, Shavaugh McKenzie escaped a harsher stalking charge after the model's two-hour testimony in which she claimed McKenzie snuck into the driveway of her Hollywood Hills home and repeatedly banged on her car windows. His attorney argued that Kendall didn't face real harm because McKenzie only wanted to speak with her.
Despite the acquittal, Kendall was granted a five-year restraining order last week that bans McKenzie from coming within 100 yards of her home, car and work place. He will be sentenced for the trespassing charge on November 11 and faces a maximum of six months in jail.
Original 10/14/2016:
Just days after Kim Kardashian was held at gunpoint in Paris, sister Kendall Jenner had a harrowing experience of her own. The model took the stand to testify against her alleged stalker, who trespassed on her Hollywood Hills property in August. In the Los Angeles County courtroom, Kendall said she first saw 25-year-old Shavaughn McKenzie sitting in her driveway when she passed through the gate and closed it, only to realize that he had managed to sneak in behind her car. She yelled at him and he started banging on her car windows until she drove away to call for help. She then told the jury that the incident left her "traumatized."
"I was crying, I was screaming, I was freaking out. I didn't know what his intentions were," Kendall said, adding that she recognized Shavaughn as the same person who had accosted her twice before. He is charged with misdemeanor stalking and trespassing, facing up to six months in jail if convicted.
"It's definitely put me even more on edge," she said. "I definitely don't feel safe in my own house anymore." With Kim's recent robbery and Kylie's run-in with a stalker over the summer, it's about time security becomes a top priority for the Kardashian-Jenner clan.