The Kardashian-Jenners Just Revealed The Hardest Scenes To Film On KUWTK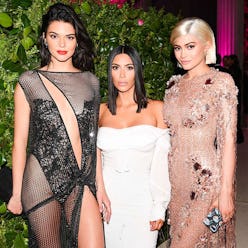 Although rumors of Kylie Jenner's pregnancy certainly loomed over the show's return to air, the Keeping Up with the Kardashians tenth anniversary special still managed to be, well, quite special indeed. The Kardashian-Jenner clan dug deeper than ever before and revealed a number of shockers that only helped solidify the series' status as our weekend guilty pleasure. Among them were Kim recounting her near-miscarriage with North and Kourtney praising Scott's family values, but the two topics they most openly discussed were Caitlyn's transition and a fake text message that led the girls to believe Lamar Odom had died. "To go through the motions as if someone has passed away is the most traumatic thing to do, and then to know they're really alive—it was too many emotions, I think, for any of us to handle," Khloé said.
On a lighter note, the family also relived their most iconic moments on the show, including Scott's legendary Todd Kraines prank, Kim's shameless selfie moment while Khloé was heading to jail and OG mom Kris doing her thing on a stripper pole. Watch below for a trip down Kardashian memory lane.