Katy Perry And Taylor Swift Attended Drake's Birthday Party, And It Surprisingly Wasn't Awkward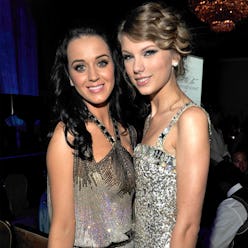 Something strange happened last night at Drake's birthday party (the rapper turns the big 3-0 today). Katy Perry and Taylor Swift, whose feud dates a few years back, managed to stand in the same room and remain civil to one another. Or at least that's what we think, considering none of the photos on social media showed any animosity between the two.
As if that's not enough drama (or lack thereof), shared ex-boyfriend John Mayer was also in attendance. Taylor had a brief fling with the musician and allegedly wrote the song "Dear John" about their relationship. After her divorce from comedian Russell Brand, Katy and John started dating in 2012.
None of the three were photographed together, but we can't help but hope this is the start of something new between the former friends.