Kaia Gerber's First Vogue Paris Cover Is With Her Supermodel Mother, Cindy Crawford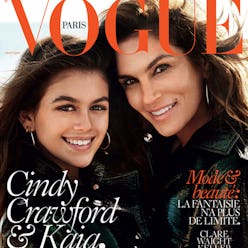 Plus, Sasha Obama's fangirl moment and more of today's news.
Like Mother, Like Daughter
Kaia Gerber is already having one heck of a 2016, swiftly landing a number of high-profile gigs including her first ad campaign with Chrome Hearts, an induction into the Alexander Wang squad and now the April cover of Vogue Paris alongside her mother, Cindy Crawford. Known for her striking resemblance to the legendary supermodel, the 14-year-old stuns on her first high-fashion cover, complete with mother-daughter styling and signature bold brows. Considering Kaia's rising star power, we're confident this is the first of many killer covers for the brunette beauty.
Sasha Obama's Fangirl Moment
The Obama daughters: They're just like us. During her first state dinner last week, Sasha Obama had the pleasure of meeting Ryan Reynolds and, like any teen dreamer, appeared to have fangirled the hunky actor upon intro. Luckily for us, the adorable moment was captured on camera, but the best part is big sis Malia in the background cheering on her 14-year-old sister with a solid two thumbs up and too-cute smirk. Given the Sasha's poise and style at the aristocratic affair, we're betting she held her own while chatting up Blake Lively's hubs. Go, girl. [ Elle UK ]
The New Cast Of Dirty Dancing
TV remakes are all the rage as of late, and next up for Hollywood is ABC's adaptation of the '80s classic Dirty Dancing. Though Patrick Swayze and Jennifer Grey will forever be our Johnny and Baby, an exciting new cast has been revealed, including Abigail Breslin, Sarah Hyland and Debra Messing. Here, a full rundown on the latest casting updates—we'll be practicing our lift scene interpretations in anticipation. [ Movie Pilot ]
Food For Thought—Er, Sleep
There are a number of natural remedies for jump-starting your zzz's, but also on the list for a better night's sleep? A series of snacks to help your body wind down before bedtime. Here, check out the healthy options to try, from fresh fruit to whole grains and beyond. [ The New Potato ]
It's Pi Day!
No, not that kind of pie (although if you want to celebrate that way, we're all about it). Better known as the day the celebrates the mathematical ratio, 3.14, March 14 is all about that math—yay, math! But unlike any other year, Pi Day 2016 is being referred to as "Rounded Pi Day" thanks to math's glorious rounding-up rule (when you round up the first four digits after the decimal point, the ratio becomes 3.1416—aka today's date). A little nerdy? Yes. Do we love it? Yes. [ Hollywood Life ]
Perfection Isn't Everything
Body image is a hot topic in both the media and fashion industry, and model Erin Heatherton is continuing to speak out on the issue. Known for vocalizing her personal body image struggles, the former Victoria's Secret Angel shared a photo of herself with a caption explaining her modeling hiatus due to a disingenuous representation of herself. "The breakdown to breakthrough moment in my life has allowed me to become the truest version of myself," she shared on Instagram. "I was struggling with my body image and the pressures to fulfill the demands of perfectionism upon me. I am not perfect. Through this struggle, however, I found the strength to love myself. I stood in my power."
At a time when diversity is being celebrated more and more, Heatherton's powerful message provides thoughtful firsthand commentary on the issue. We hope it propels the conversation forward, as her continued modeling career represents significant changes in the industry that are reshaping the media's perception of beauty. [ Vogue UK]