Women of Style: Julia Restoin Roitfeld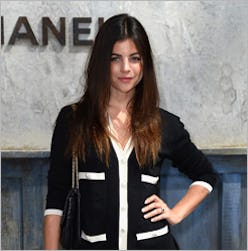 For the second installment in our Women of Style series, we had the privilege of interviewing Julia Restoin Roitfeld. Model, mom, art director, site founder (read: Romy and the Bunnies) and all around wonder woman, she made time amidst her multitasking schedule to dish out some apropos career and fashion advice. Take notes!
Her first first job in fashion… "A modeling job for United Colors of Benetton when I was about 4!"
Julia in Eddie Borgo's Fall Lookbook. Photo: Courtesy of Paul Maffi
The best career advice she's ever received… "To make my career decisions based on what I want in the long run, and not to rush into doing things just to do them."
Julia at fashion week with her mother Carine Roitfeld. Photo: Courtesy of Getty Images
On role models… "My mom is my role model and my dad my mentor—or vice versa."
Julia with her father Christian Restoin. Photo: @juliarestoin
Her biggest challenge at work… "It's a creative industry, so it's challenging to constantly have to come up with new ideas. It's also a very competitive job."
Her hopes for the fashion industry in the coming years.. "I hope to see designers really design with all body shapes in mind."
The biggest career mistake she sees women make… "To place their career ahead of their personal lives."
The one piece that rules her office wardrobe… "My Valentino black patent mary janes; they're the perfect heel height to be chic but comfortable all day."
Heels from left to right: Valentino Tan-go Pumps ($795), RED Valentino Chain-Strap Pumps ($237) and Valentino Rockstud Leather Sandals ($1075).
Her style advice for someone with a job interview in the fashion industry… "Keep it simple; don't try to prove yourself too hard or you'll look like a fashion victim! Choose classic, timeless pieces."
Where she shops… "Online! I love Net-A-Porter, Shopbop and Barneys."
The top 3 items on her fall shopping list… "Gianvito Rossi plastic pumps, any Valentino dress and the Bambi-print Givenchy clutch."
Fall essentials, clockwise: Valentino Lace Dress ($3790), Givenchy Bambi Print Clutch (available Fall) and Gianvito Rossi Plexy Pumps ($625).
On off-duty attire… "My work outfits are actually the same as my off-duty outfits! I like to be put-together all the time, dressing up is more about self-respect than dressing up because I have to."
How she recovers from a bad day at work… "I go home and cuddle with my baby."
Julia with daughter Romy. Photo: @juliarestoin