This Major Model Is Breaking Down Gender Norms With Her Fearless Announcement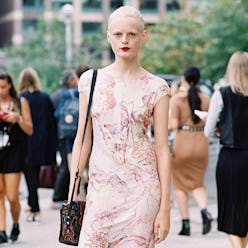 Hanne Gaby Odiele has walked the runways of Alexander McQueen and Versace. She's starred in campaigns for Mulberry and Balenciaga. She's recognized for her cool-girl street style and her androgynous beauty. Now the Belgian model is one of the first high-profile figures to reveal she is intersex—and she wants to bring awareness to a condition that affects about 1.7% of the human population. (About the same percentage as natural-born redheads!)
"It is very important to me in my life right now to break the taboo," Hanne said in an interview with USA Today. "At this point, in this day and age, it should be perfectly all right to talk about this."
Intersex individuals have a sexual anatomy that's neither wholly male nor wholly female. For Hanne, this means she was born with one X and one Y chromosome, as well as a condition called androgen insensitivity syndrome; she has physical characteristics of a woman but the genetic makeup of a man. Many of her childhood days were spent in doctors' offices, and her testes were eventually removed and she underwent vaginal reconstructive surgery. Hanne describes these procedures as traumatic and confusing, leading her to a magazine article that told the story of an intersex girl and helped her discover a community of people with similar experiences.
Since she's gone public, Hanne seeks to end genital-normalizing surgeries done without consent by partnering with interACT Advocates for Intersex Youth. "I want to be there for people who are struggling, to tell them it's okay—it's one part of you, but it's not who you are," she recently told Vogue.
Thank you for speaking up, Hanne.