Secret's Out (Maybe)—Gwyneth Paltrow Reportedly Got Married Last Night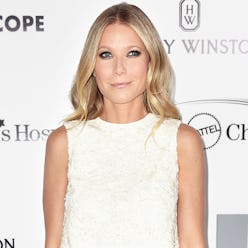 In the midst of the festival weekend storm and the reported clever guise of an engagement party, it seems Gwyneth Paltrow may very well have tied the knot last night. Yes, a swarm of A-list guests that included Jennifer Aniston, Kate Hudson and Cameron Diaz attended the rumored secret nuptials at the Los Angeles Theater. So, what proof do we have, you ask? Well, for starters, Gwyneth's fiancée/husband, Brad Falchuk, was photographed in quite the formal attire, strolling into the venue in a sleek white tux. (Gwyneth herself arrived in a stunning one-shoulder Giambattista Valli gown—but, you know, wardrobe changes happen.) Mother of the possible bride Blythe Danner was seen carrying a Monique Lhuillier dress bag, which made our wedding detectors go off like crazy. Also, this event comes hot on the heels of Gwyneth's epic Mexican bachelorette weekend—so there's that.
At this point, all of these clues amount to mere speculation, but our Spidey senses are leading us to believe the actress pulled off the ultimate extravaganza under our very noses. Well played, Gwyneth, well played.