Gisele Just Revealed A Totally Unexpected Hidden Talent In This Dreamy Post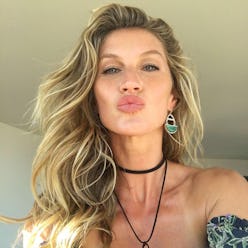 As one of the world's top supermodels, Gisele really knows how to captivate a crowd. So it shouldn't have surprised us when she chose to ring in 2017 with a performance that revealed her musical talent. The Brazilian bombshell took to Instagram to serenade her followers with the soulful melody of Ana Vilela's "Trem-Bala," complete with her guitar, a picture-perfect setting and a boho-chic look (yellow orchid included).
"The lyrics are so inspiring that I decided to take a risk and play it," she wrote. However, this isn't the first time Gisele has honored us with her vocals; the supermodel previously covered Blondie's "Heart of Glass" for a nonprofit project with H&M and showed off her skills in an ad for Chanel last year.
She also shared a motivational message in a New Year's Day post: "Let's let go of what no longer serves us and embrace with an open heart all the experiences that life will bring us in this New Year, co-creating the beautiful world we want to live in." We can't agree more.