The Surprising Thing You Didn't Know About Gal Gadot During The Filming Of Wonder Woman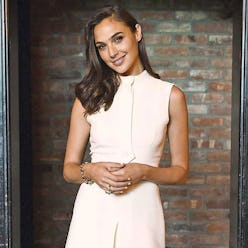 Almost everything we learn about Gal Gadot further cements her real-life Wonder Woman status. She's served as a combat trainer in the Israel Defense Forces, studied capoeira and jiujitsu in preparation for her role in last year's Batman v Superman movie—and now we find out she filmed reshoots for Wonder Woman while pregnant.
That's right, the actress was five months pregnant with second daughter Maya when she was asked to return to director Patty Jenkins' battlefield. In a recent interview, she revealed that the visual-effects team had her growing baby bump covered with green-screen fabric to be digitally altered in post-production. "On close-up I looked very much like Wonder Woman," Gal said. "On wide shots, I looked very funny, like Wonder Woman pregnant with Kermit the Frog."
Her commitment to the role despite her pregnancy earned praise from Patty herself, who shared, "There are so many things we asked her to do: Now do it on one foot. Now shout while you're doing it. Now it's raining in the freezing cold and you've lost your voice, go. Every day it was a hilarious gauntlet and she would do it."
Even more surprising is that this wasn't her first experience filming while expecting. Gal reveals in her June cover story for Marie Claire that she hid her first pregnancy from coworkers, vomiting in corners and never letting her hormone-induced migraines show for fear she'd be treated differently. "I gutted it out," she says. "I started to come to set with sunglasses. I had this jug of water with huge pieces of ginger. One of the producers kept on asking, 'Why are you drinking that potato water?' They thought I'd gone Hollywood." Which obviously couldn't be less true of someone who wears flats on the red carpet.)
Given Gal's genuine #girlpower, it's no wonder Wonder Woman has shattered records since hitting theaters last weekend. We can't wait to see what else is in store for this inspirational leading lady.