Make That Weekend Feeling Last With These Foodie Instagram Accounts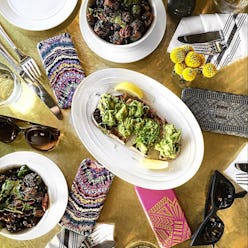 Scrolling through Instagram is undoubtedly one of the best guilty pleasures out there, especially when it comes to mouth-watering, perfectly-posed pictures of to-die-for dishes. So who do we follow when we want to vicariously live through someone else's stylized snaps, not to mention make every day feel like a food-fueled Sunday afternoon? Click through the list below and feast your eyes on some of the unbeatable Instagram accounts of our favorite foodie ladies.
Aran Goyoaga, @cannellevanille
Photographer and cookbook author, Aran Goyoaga's keen photographic eye and saliva-inducing recipes make for one of our favorite foodie Instagram accounts out there. Based between Seattle and Spain's Basque Country, expect the perfectly delicious hybrid of Pacific Northwest and Iberian dishes shot with effortless editorial style.
Adrianna Adarme, @acozykitchen
If looking isn't enough, then expect @acozykitchen's Instagram feed to be your new favorite. This Los Angeles based food blogger not only snaps the perfect shots to get you all sorts of hungry, but also puts links to all her recipes so you can recreate these beautiful babies all on your own, and who knows, maybe even snap a pic of your own.
Mimi Thorisson, @mimithor
After deciding to move to Bordeaux with her husband and children, Mimi Thorisson took up cooking and writing on her blog Manger to pass the time. Fast forward a year and you can catch her gracing the paces of Elle and Conde Nast Traveler, playing host to lavish, country-style dinner parties in her French chateau.
Colu Henry, @coluhenry
If you aspire to spend your weekends cooking in your country house then this is your kind of Instagram account. Colu Henry lives our weekend dacha dreams shuttling between Brooklyn and Hudson. Expect seasonal ingredients and delicious pasta dishes from her forthcoming cookbook Back Pocket Pasta. With a tagline of " A glass of wine never far behind," it's hard to possibly love her account more.
Taye Hansberry, @tayehansberry
Pairing jealousy-inducing food shots with a healthy dose of fashion, beauty and wellness too, blogger Taye Hansberry's IG is a perfect storm of inspiration. Expect stunning shots of some of the best food Los Angeles has to offer mixed alongside the covetable accessories you might see in our trend reports.
Julia Kramer, @juliakramer
Senior Editor of Bon Appétit magazine, Julia Kramer's Instagram gives you some insight into the foodie dream of a life revolved around food journalism. Expect snaps of everything from delicious desk-side lunches to sneak-peeks of upcoming Bon Appétit shoots and dishes from the world's hottest restaurants.