Emily Ratajkowski Just Nailed The Coolest Bridal Trend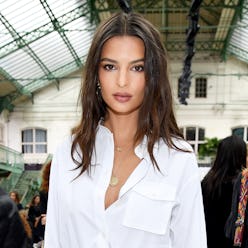 If, despite hours of Instagram scrolling on the daily, you feel like you're still somehow missing the engagement announcements of numerous starlets, you're not alone. It was only a week ago that we woke up to discover Amy Schumer married her beau in a beautiful beachfront ceremony, while Alicia Vikander tied the knot with minimal fanfare this past summer. Turns out Emily Ratajkowski is also cashing in on the surprise nuptials trend, unveiling her new relationship status with a simple Instagram post captioned with two diamond rings and a flurry of Instagram story posts. We love the pomp and circumstance of the engagement period, particularly when celebrities and royals are involved, but there is something so effortless and cool about a quiet, private ceremony.
To further prove her low maintenance approach to being a bride, she eschewed a traditional gown in favor of a mustard pantsuit, reportedly from fast-fashion retailer Zara, which she accessorized with a veiled black hat. Given how outspoken the actress and model has been about women having the right to dress how they want, when they want, we're pumped to see she bucked convention and chose a badass orange suit for the special courthouse event. Congratulations to the happy couple!