David Beckham Gave His Daughter Her First Soccer Lesson, And The Videos Are Everything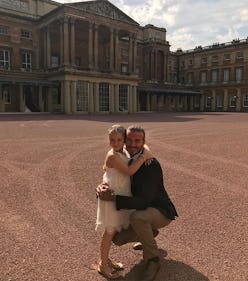 We adore the Beckhams for many reasons, not the least of which is that they seem to prize family above all else. In Instagram posts that prove it, David recently shared footage of six-year-old Harper's first soccer lesson with none other than her famously talented footballer father as coach. The first video shows dad and daughter holding hands while kicking a soccer ball back and forth, with the caption, "Someone's ready for her first football lesson." Be still our hearts (and, our ovaries).
Harper may just be a prodigy, because in the second video, David shows off her newly acquired—and quite impressive—skills.
Thank you, David, for providing us with the first occasion upon which we've swooned over soccer (for a non-Cristiano-Ronaldo-related reason). #BabyDaddyGoals.