Women Of Style: Colleen Atwood
Jamie McCarthy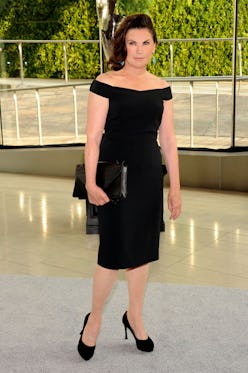 I am so excited this week to share some insight from one of my heroes and the preeminent costume designer in the world – Colleen Atwood. With three Academy Awards under her belt (for Chicago, Memoirs of a Geisha and Alice in Wonderland) and a total of 10 Oscar noms, Colleen has played such an integral role in shaping storytelling and cinema – and of course, fashion. Who hasn't been inspired by one of her incredible creations for Tim Burton? With her dedication to her craft, her leadership within the industry and her very admirable wisdom, she is the perfect embodiment of a Women of Style. – Mandana Dayani
Career
On her first job
Sketches from Dark Shadows
"My first costume 'design job' was for the film division of Saturday Night Live, getting costumes for shorts that were made separately from shows."
How she knew what she wanted to do
"I didn't really 'know' - I studied art and painting, always loved clothes and had to work to make a living. I started doing displays and worked in fashion, and ultimately moved to New York to get into film."
"My career advice: Be strong, be right, be fair."
Her most labor intensive costume
"Some of the costumes for Snow White were labor central. The feather cape was all hand-trimmed feathers individually placed on silk. It took two people two weeks to make."
The biggest milestone moment in her career
Sketches from Snow White and the Huntsman.
"My first job on a real feature film – Firstborn."
How it feels to win an Academy Award
"Scary! I am a behind-the-camera person. It is so 'out of body'. I can barely remember it."
Her creative process
"My creative process is pretty random. I absorb material, go into a zone and as I look around, and think, ideas come."
What people don't know about being a costume designer
Dress and sketch for Tim Burton's Alice in Wonderland.
"The long long days, the waking up, dressing crowds. It is not for people who do not want to work very hard; managing lots of people – crew and actors - is sometimes not realized as part of the job."
Why she doesn't have one favorite project…
"I like the variety of projects that I have been able to work on. A continual shift keeps me excited. The challenge of making costumes appeals to me."
Style & Personal Life
Her favorite designers
Runway favorites: Gucci, Alexander Wang and Alexander McQueen.
"I am a huge fan of so many fashion designers – McQueen, Alaia, Gaultier, Lanvin, Alexander Wang and Gucci."
How fashion influences her
"Fashion is fun to look at, and the variety is always inspiring."
What's on the horizon
"I am designing a handbag collection, and looking forward to doing a collection of clothing in the future."
Her fall shopping list
Wardrobe essentials: Oscar de la Renta Tweed Jacket ($2600) DKNY Mini Dress ($395), Tomas Maier Cashmere Turtleneck ($890).
"It's already winter! I love a bit of cashmere."
The piece of clothing every woman should own…
"A great jacket can take you through a lot – And the 'Little Black Dress' is oft quoted for a reason."
My after-work ritual: I love reading – it relaxes me.
The advice she would give to her 25-year-old-self
"Stay focused. The world is a great place to love and create. It is still possible to think without the internet."