Chrissy Teigen Wore A Bikini For The First Time Post-Baby, And It Was Unbelievable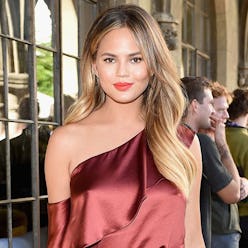 Homepage photo: Getty Images
Chrissy Teigen is undoubtedly one of the coolest moms in the biz. She co-hosts celebrity-filled music contest Lip Sync Battle, manages the sassiest account on Twitter and recently released her own happy-eating cookbook Cravings to rave reviews. She also has an incredibly hot bod, but it turns out the supermodel didn't always see it that way. (Say what?)
"I always felt like a bit of a tomboy," she told Elle Australia, for whom she appears as January cover girl. "I never looked at my body as particularly sexual"—that is, until she gave birth to her daughter eight months ago. "Of course you get, like, hips. Finally, for the first time, I feel like I have a bit more of a womanly figure."
And in her first shoot since Luna was born, we got to see that figure as Chrissy stripped down to a bikini. "My torso hasn't seen the light of day for many months," she said.
The model even admitted to feeling uneasy each time she poses in a swimsuit—a total surprise, knowing that she gained fame for her Sports Illustrated swimsuit issue debut in 2010. "I would much rather shoot completely naked than in a swimsuit, it's just always been my thing," she said. "I've never been much of a beach girl. I grew up in Washington—it's freezing in that ocean. So it's out of my comfort zone, and it's the craziest thing that I'm probably most known for Sports Illustrated, when that's how I feel the most uncomfortable."
We can't help but admire her resilience. See more from the shoot here.